The Best of Everything
Joan Crawford Collectibles:
Personal Belongings
These items once owned or worn by Joan are divided into 3 categories below:
Clothing/Furs/Shoes/Accessories
(Movie Costumes and Personal Attire) (Note: To see other items from Joan's wardrobe, visit TheFrock.com vintage clothing site.)
(Precious/Semi-Precious and Costume)
(Personally owned art, awards, personal checks, compacts, etc.)
See also the separate page for a complete list of prices received for items sold at the Doyle New York auction on 12/7/11.
---
Clothing/Furs/Shoes/Accessories
Movie Costumes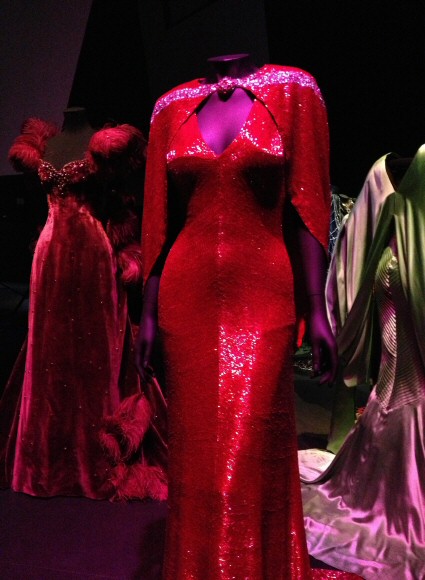 Above: Joan's dress from The Bride Wore Red.
Displayed at London's Victoria and Albert Museum "Hollywood Costume" exhibit, 10/20/12 - 1/27/13.
(Thanks to Norman for the photo.)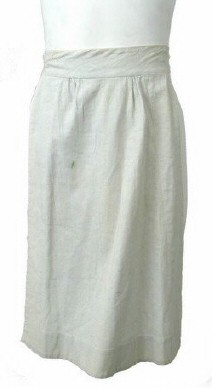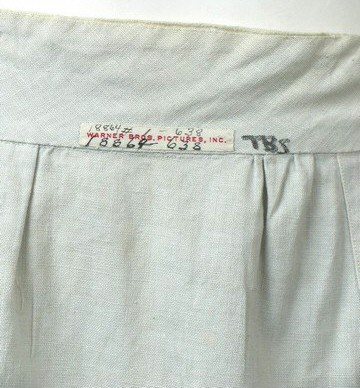 Above: Mildred's waitress apron from Mildred Pierce.
Auctioned June 15, 2013, by Premiere Props of California, with a starting bid of $1000.
These two dresses are from the personal collection of a San Diego collector. The dress on the left was worn by Joan in Mildred Pierce (the opening night of Mildred's restaurant). The dress on the right is the wedding gown from 1935's I Live My Life. Thanks to Mr. T for contributing these photos to this site.
Click on either picture to see enlarged photos accompanied by shots of Joan wearing the dresses.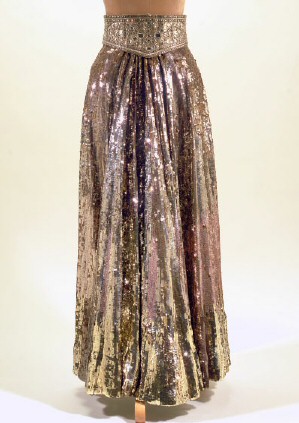 From the June 22, 2006, Christie's Auction
Lot 235: The Women, 1939/Joan Crawford A dazzling full-length skirt designed by Adrian for Joan Crawford as Crystal Allen in the 1939 M.G.M. film "The Women," accompanied by a silver v-shaped waistband encrusted with various shaped rhinestones. (Thanks to Samantha Kaylor of Christie's for the photo and information.)
See this site's photos from "The Women" for shots of Joan wearing this skirt.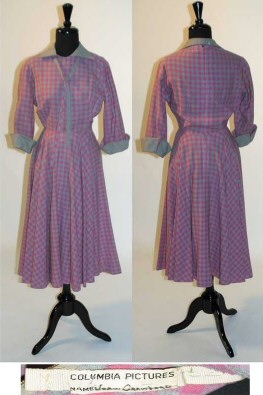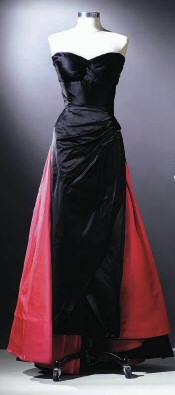 Above are two dresses recently auctioned off by Live Auction. At left, a costume from Harriet Craig; at right, the iconic Queen Bee dress.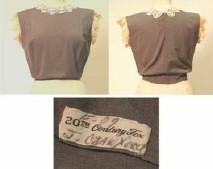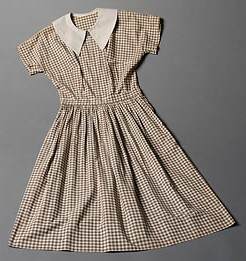 Above left is a Joan-costume from The Best of Everything, auctioned 12/6/03 from Debbie Reynolds' collection
and bringing in between $1,000 and $2,000. Above right is Joan's waitress dress from Mildred Pierce, which is housed at the University of Texas's Humanities Research Center.
---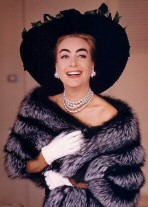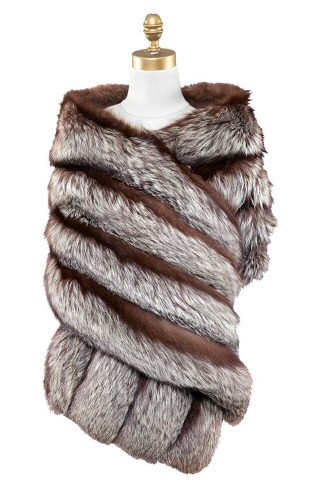 Joan's silver fox stole. Label inside: "Furs Alixandre New York Paris." 6 ft 10 in long, 17 in wide. This is the stole worn by Joan during her 1959 photo shoot with Eve Arnold (photo at left). Offered for auction at Doyle New York on 12/7/11.
CLICK HERE to see 13 other furs owned by Joan and auctioned by Doyle.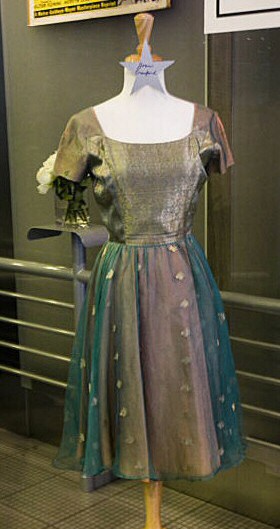 Displayed at San Francisco's Metreon theater, April/May 2010, as part of "Hollywood Legends: The Barry Borsamian Collection."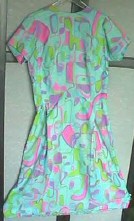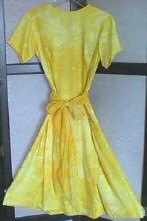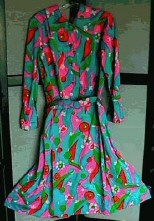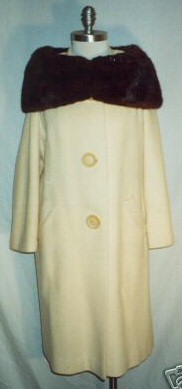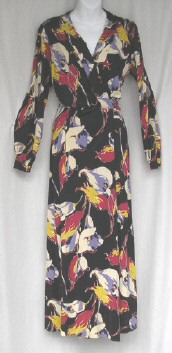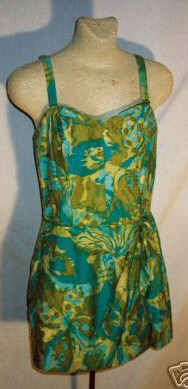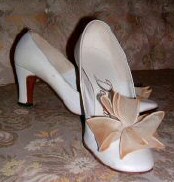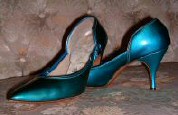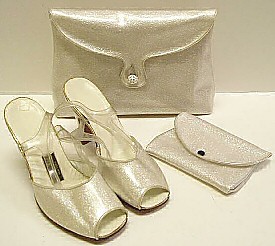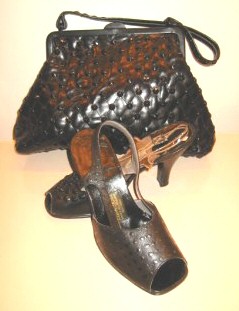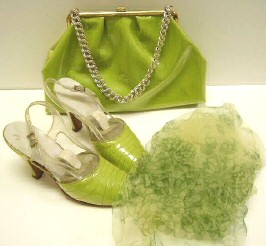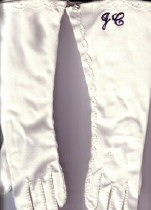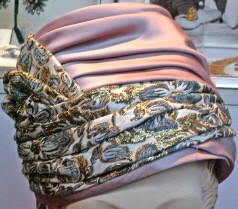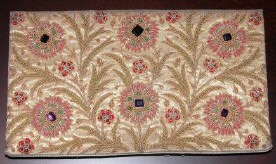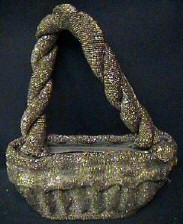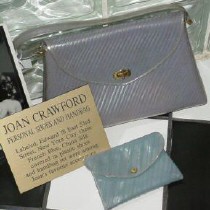 ---
Click here to see 12 photos plus descriptions of Joan's jewelry from Hollywood Jewels. (Thanks, Vincent!)
Precious and Semi-precious

Joan's Pepsi brooch. 2-1/8 in. 14k gold, ruby cap, with emeralds and diamonds. Offered at auction at Doyle New York on 12/7/11.
ABOVE: Aquamarine and diamond suite by Verger Freres. Bought by Joan circa 1935. Sold at auction to Andy Warhol in 1978, then sold at Sotheby's NY in 1988. Auction in 2009 at Hancocks of London. (Click for full description.)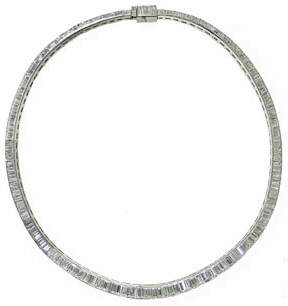 ABOVE: c. 1935 platinum art deco necklace, with 172 diamonds, by Stephen Russell. Valued in 2009 at $195,000. Presented at the Golden Globes' red carpet show in '09 by Platinum Guild International.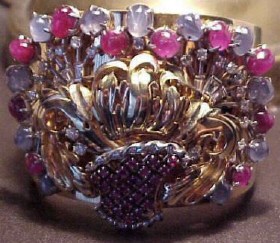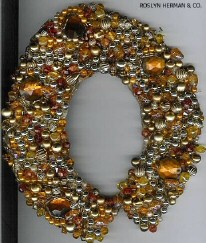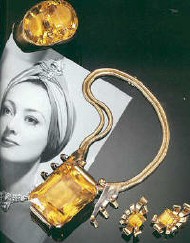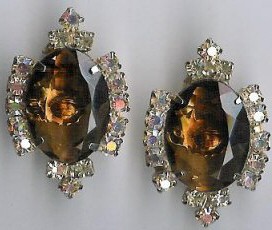 Costume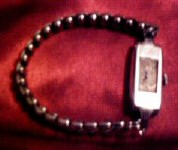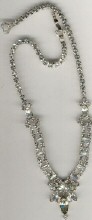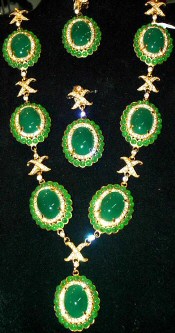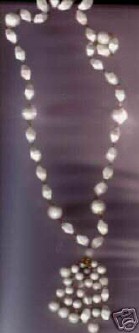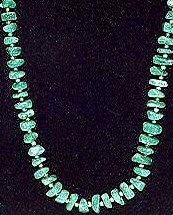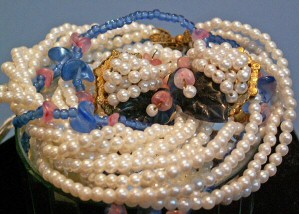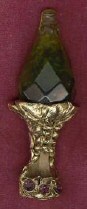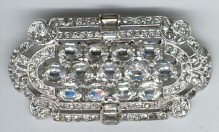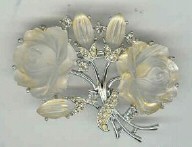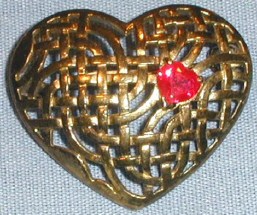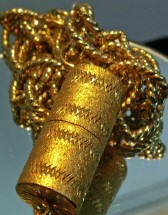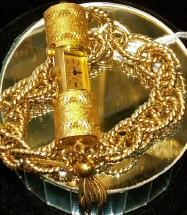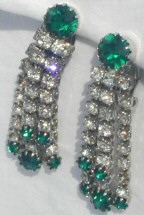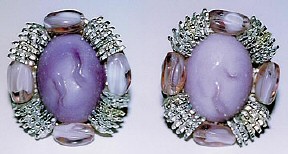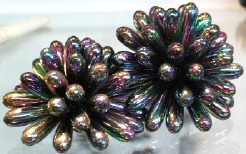 ---
Above: Four Joan-owned paintings by Margaret Keane. Auctioned by Doyle New York on 12/7/11. Click on any painting to see larger versions of all four.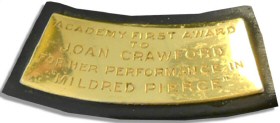 Above: Joan's Oscar for Mildred Pierce. Height: 13.25 in (including base of black Belgian marble). Weight: 6 lbs, 2 oz.
Sold at Christie's auction by daughter Cathy LaLonde in June 1993 for $68,500. Sold at Nate D. Sanders auction September 25, 2012, for $426,732.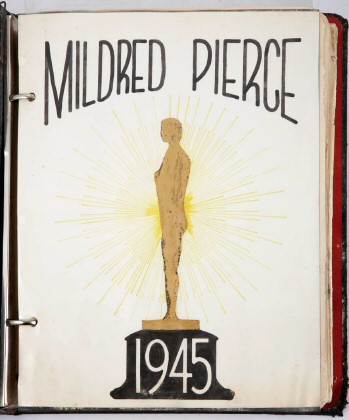 Above: Scrapbook presented to Joan at the end of the filming of Mildred Pierce, including film stills and memorabilia. Offered at auction by Doyle New York on 12/7/11.

Above: Joan's 1969 Golden Globe. 11-3/4 in. tall. Offered at auction by Doyle New York on 12/7/11 and sold for $25,000.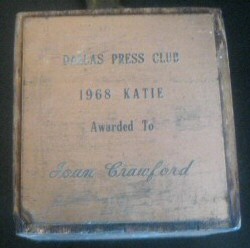 Above: Joan's 1968 "Katie" award from the Dallas Press Club. Below: The Katie award today, an aesthetically gorgeous display from the personal collection of Ryun E. Johnston.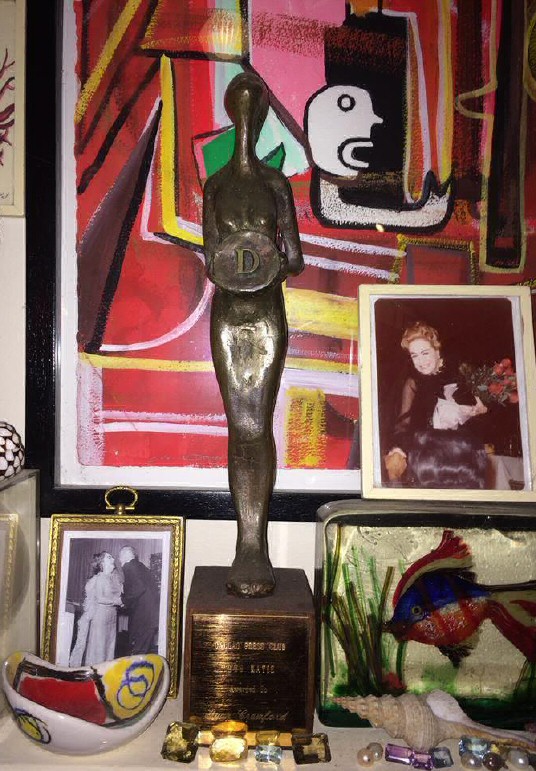 Below: Also from the personal collection of Ryun E. Johnston: A silver box received by Joan in 1939 on the set of Strange Cargo
as an award from fan magazine photographers for being "Most Cooperative." (For a closer look at the photo pictured below on Ryun's table, click here.)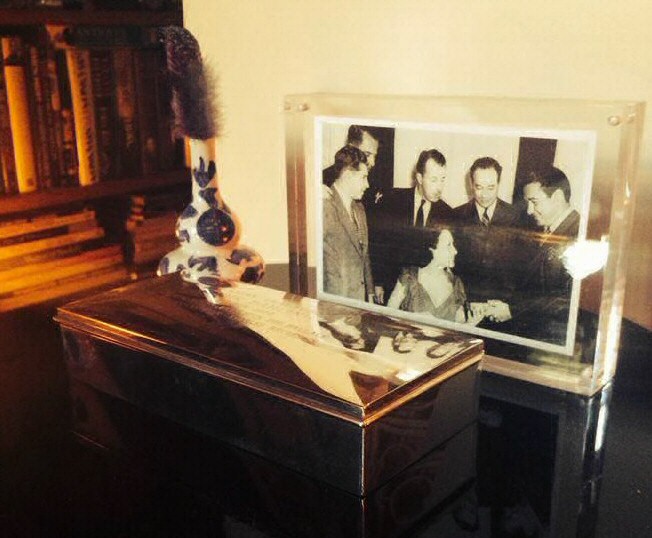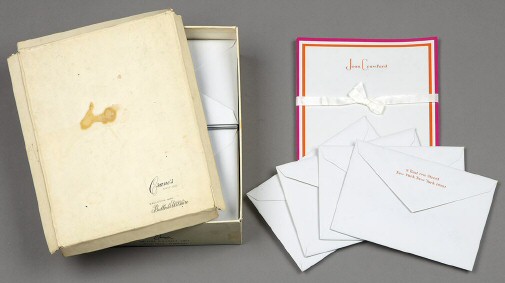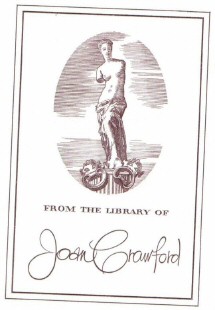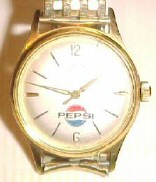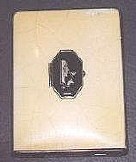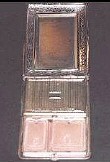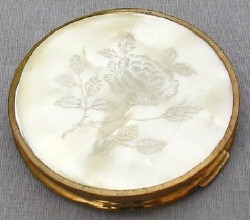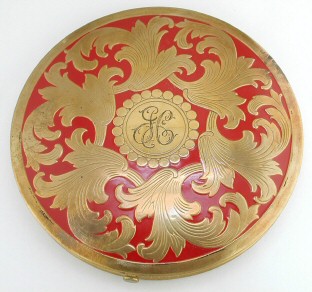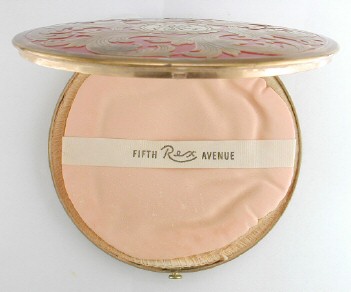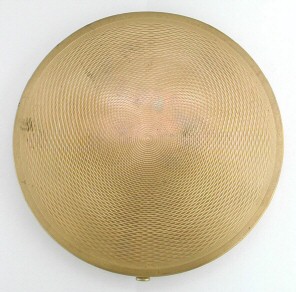 Above: Compact from NYC's "Rex." Auctioned on eBay 2013.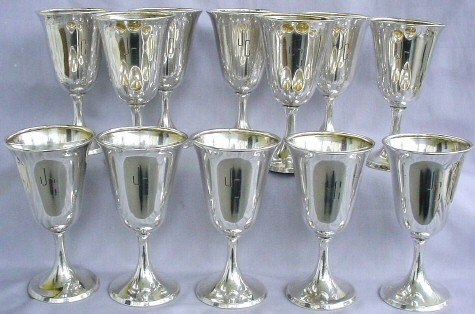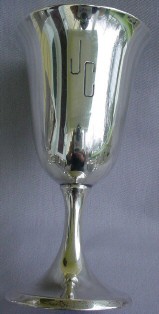 Above: A set of sterling silver "JC"-monogrammed goblets, auctioned by Joan in 1967 with Parke-Bernet upon her move to the Imperial House.
51 Troy ounces. 6-3/8 inches tall and 3-3/8 inches wide. Offered on eBay in 2013 for $6,000.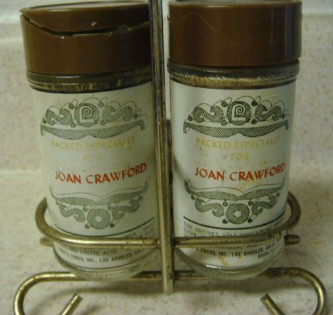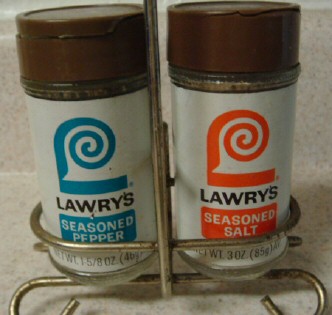 Above left: Specially labeled salt-and-pepper shakers for Joan from Lawry's restaurant in Beverly Hills, 1950s.
(From Dore Freeman's private collection; auctioned on eBay in 2013.)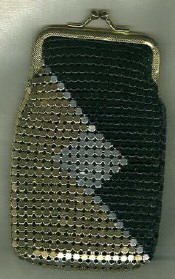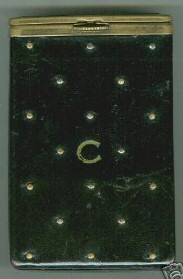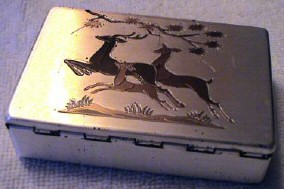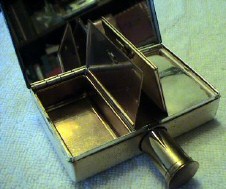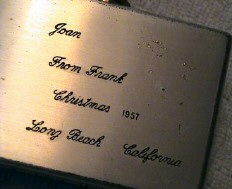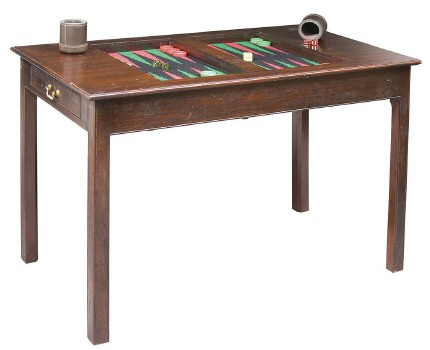 Above: Joan's mahogany backgammon table (H 29 in, W 44 in, D 2-1/4 in). Sold at auction by Doyle New York on 12/7/11.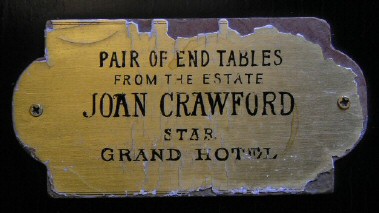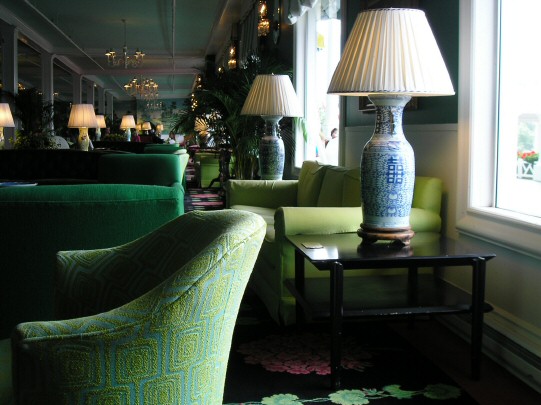 Above: Parlor of the Grand Hotel of Mackinac Island (Michigan) today, decorated by Carleton Varney
and including two end tables from Joan's last apartment (also decorated by Varney). Thanks to Luke Mack for the photos.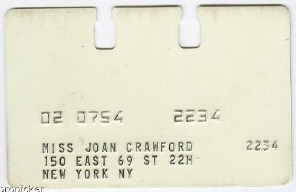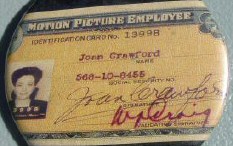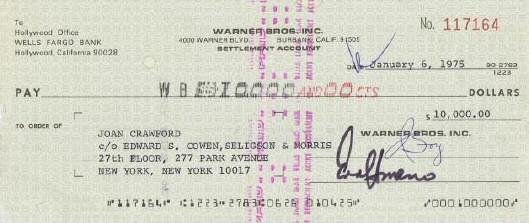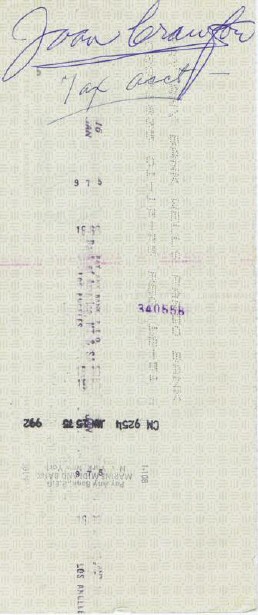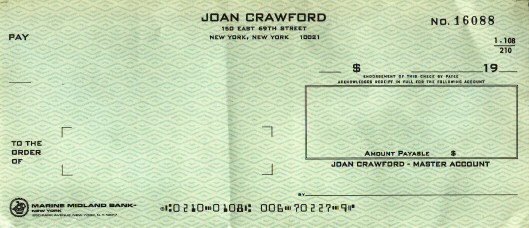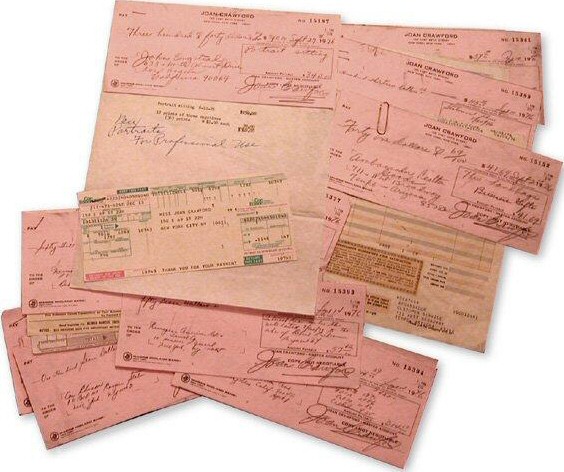 ---
The Best of Everything