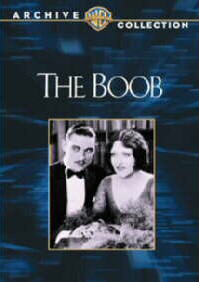 MGM Silent. 64 minutes (6 reels).
US release: 5/17/26. (Released as "The Yokel" in the UK.)
Warner Archive DVD release: 8/4/09.
Box Office Total Gross: $183,000. (Loss of $30,000.)
Cast: Gertrude Olmstead, George K. Arthur, Joan Crawford (as "Jane," a Prohibition agent), Charles Murray, Antonio D'Algy, Hank Mann, Babe London.
Credits: Adapted by Kenneth Clarke from the story by George Scarborough and Annette Westbay. Director: William A. Wellman. Titles: Katherine Hiliker and H.H. Caldwell. Camera: William Daniels.
Plot Summaries:
Peter Good, an idealistic young farmhand, finds that Amy, the girl of his dreams, does not requite his love, and goes forth in search of adventures. He arrives at a roadhouse to which Amy has been brought by Harry Benson, a young city sport wanted by the authorities for bootlegging, and climbs into the car in which Amy is being abducted. A running fight ensues, which ends when the car crashes, slightly bruising all occupants. Harry is taken into custody by dry agents and reconciliation between Amy and Peter follows. ~Studio press book (from AFI listing)
This early
William Wellman
directorial effort stars
George K. Arthur
as the title character, an incredibly naïve farmhand named Peter Good. Spurned by Amy (
Gertrude Olmstead
), the girl he loves, Peter sets out to prove that he isn't a boob. He joins a posse hunting for a gang of bootleggers, and sure as shootin' he rounds up the bad guys single-handedly. The film's highlight is an elaborate production number set at a burlesque theater, where scores of contract starlets have their clothes removed with the help of wires and pulleys. Billed third in the cast is
Joan Crawford
, whom MGM was obviously preparing for bigger and better things.
~Hal Erickson, All Movie Guide
Notes:
The working title for the film was I'll Tell the World (Film Daily, Variety).