The Best of Everything
Encyclopedia Entry • Films Main
The Karate Killers
1967
Critics' Reviews • Our Reviews • Movie Posters • Lobby Cards
Click here to see photos from the film.
---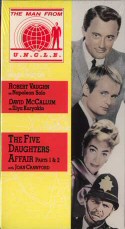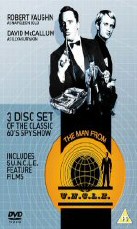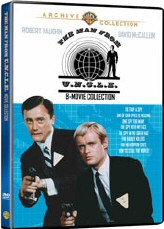 MGM/Arena. 92 minutes.
US TV: A two-part episode of the Man from U.N.C.L.E show, titled "The Five Daughters Affair," originally airing 3/31 and 4/7/67. (In production in Los Angeles from 2/7/67 to 3/9/67.) It was later released theatrically in the UK and Europe (date unknown).
DVD releases:
9/8/03 (Region 2 only) as part of 3-disc set of 5 U.N.C.L.E. movies.
8/23/11 (US Region 1) as part of 4-disc/8-movie Warner Archive set including Joan's "Karate Killers."
Cast: Robert Vaughn, David McCallum, Joan Crawford (cameo), Curt Jurgens, Herbert Lom, Telly Savalas, Terry-Thomas, Leo G. Carroll, Kim Darby, Diane McBain, Jill Ireland.
Credits: Story by Norman Hudis and Boris Ingster. Producers: Norman Felton (executive), Boris Ingster. Director: Barry Shear. Cinematography: Fred Koenekamp. Original Music: Gerald Fried, Jerry Goldsmith. Art Direction: George W. Davis, James Sullivan. Editing: William B. Gulick, Ray Williford.
---
TVguide.com:
This is simply a few episodes of the popular "Man from UNCLE" television series spliced together for theatrical release. The spies from THRUSH are after a professor and his formula for changing sea water into gold. It's an enjoyable and exciting romp, though it clearly belongs on the smaller screen. Watching the stars is good fun, and Crawford, in a small role, gives it her all. Surprisingly, this proved to be a much-needed boost for her career, stopping its steady downslide.
---
If you've seen The Karate Killers and would like to share your review here, please e-mail me. Feel free to include a star rating (with 5 stars the best), as well as any of your favorite lines from the film.
Jack Boyd (November 2009)
Rating:


of 5
After watching the first fifteen minutes of The Karate Killers, I realised that what I thought would be a spy thriller with Joan Crawford was really just a five-minute appearance.
The plot revolves around the Men from U.N.C.L.E. on a continental adventure tracking down five daughters of a deceased scientist, who had a secret formula that turns seawater into gold. They have to fight off a bad guy and his "Karate Killers" who are after it.
But although Crawford lasts just through the beginning of the film before getting bumped off, she definitely makes the most it. This proves Miss Crawford can act brilliantly, even though she has very little time to make an impression on the film. She turns on the waterworks and makes us pity her, then tries to kill her husband's murderer, which makes us like her.
The film itself is basically an average '60s "Bond"-type film. It isn't a film that could make history, nor is it an engrossing and entertaining one -- although it was watchable, mostly just to see Joan.
I rate the film itself 2 stars out of five, but I would rate Crawford's performance 4 stars, as she gives it her all.
---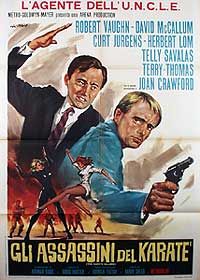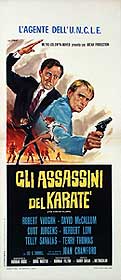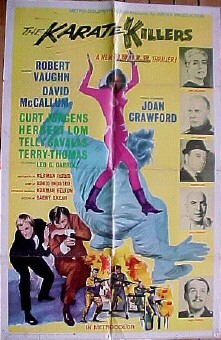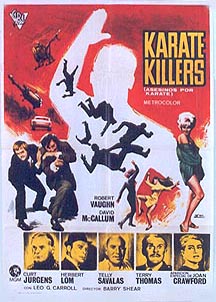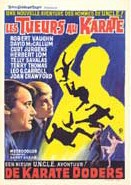 ---
---
The Best of Everything