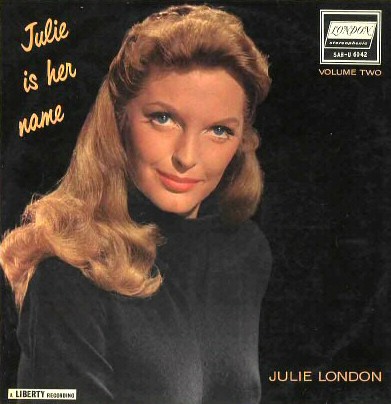 Julie Is Her Name, Vol. 2 (Liberty: LRP-3100/LST-7100)
Released: August 1, 1958.
Producer: Bobby Troup. With Howard Roberts on guitar and Red Mitchell on bass.
CD Availability: 1992 EMI two-fer, with "Julie Is Her Name."
Original liner notes (author unknown):
We might as well call this an anniversary album. Three years ago this month Julie London made her first professional record. A bass, a guitar, twelve memory-stirring melodies and "Cry Me a River." That's all it was---and how exciting to look back...because what more wonderful bit of Americana is there than the success story. The underdog, with all conceivable odds against him, winning the fight---Henry Ford and his car, The Giants in 1954, Duke Ellington at Newport in 1956, ball-point pens. There's an intangible something in all of us that lends our sympathies to successes like these. Maybe it's identification---that vicarious pleasure we gain from all of it.
But whether it's identification or subconscious or feeling for the "little fella," it's undeniably fun. And this was all part of "Julie Is Her Name," Liberty Album No. LRP-3006. An untried singer with uncompromising musical faith; an unknown record company; sophisticated, tastefully presented material smack in the middle of a roaring rock and roll market; just a bass and guitar---all the ingredients fo failure...a hundred-to-one shot.
But to get back to the beginning, what a lovely success story. "Julie Is Her Name" skyrocketed to one of the best selling albums of all time. Julie London rose to the top ten of every list of female vocalists. The satisfying simplicity and quietness of the guitar-bass formula gained happy acceptance in the midst of all the noise, and it has been copied and re-copied.
One's own success is always difficult to top. This is an old show business adage. Perhaps we're overly enthusiastic, but in this case we feel the good is followed by the better. "Julie Is Her Name--Vol. II" has all the sincerity and warmth of "Julie Is Her Name." The songs have the same tingling nostalgia. Howard Roberts' brilliant guitar work and arrangements capture every nuance of every mood. Red Mitchell's impeccable bass work couldn't possibly make a more musicianly marriage. And Julie's singing stature continues to grow and grow.
We hope you'll enjoy this anniversary with us.
All Music Guide review by Nick Dedina:
Three years after her debut, Julie Is Her Name, Julie London returned to the intimate jazz guitar and bass backing that resulted in a Top Ten album and single (the still-popular "Cry Me a River"). You can almost see the cigar-smoking executives at Liberty Records planning this one out -- "Hey, if the public loved it the first time, they're bound to love it again, right?" Well, to give the cigar-chompers some credit, Julie London favored this backing for her live performances and she originally had to fight to be able to record with this intimate jazz backing. Plus, every uptown singer -- from Johnny Mathis to Chet Baker to Sarah Vaughan -- was recording with a guitar/bass duo after Julie Is Her Name hit big, so why not the lady who started it all? For once, pandering to the public equaled taking the artistic high road, because while Julie Is Her Name, Vol. 2 may not be as fresh or unexpected as its predecessor, it actually stands up as a slightly stronger album. London's breathy vocals aren't that different, but she seems more confident and she swings more, even on the ballads. Howard Roberts may not have been a "name guitarist" like Barney Kessel, who played on the debut, but his work here is strong and bassist Red Mitchell lays an entire rhythm section worth of foundation for London to stretch out on. This album was also better recorded than London's debut and the release has a fuller, richer sound to it. Since the plunging-neckline album cover to London's debut was talked about as much as the music, Liberty Records decided to continue the concept by literally putting spotlight beams on the famed beauty's chest. Thankfully, Julie London had enough jazz credentials and focused vocal talent that such blatant cheesecake shots remain of secondary importance to the music contained on the album.
Our Reviews
If you'd like to share your own review of Julie Is Her Name, Vol. 2 here, please e-mail me.
Tracks
| | | |
| --- | --- | --- |
| Blue Moon | Rodgers - Hart | 2:20 |
| What Is This Thing Called Love | Cole Porter | 1:47 |
| How Long Has This Been Going On | George and Ira Gershwin | 2:46 |
| Too Good To Be True | Clay Boland | 2:40 |
| Spring Is Here | Rodgers - Hart | 2:05 |
| Goody Goody | Mercer - Malneck | 1:55 |
| The One I Love Belongs to Somebody Else | Jones - Kahn | 2:00 |
| If I'm Lucky | Myrow - DeLange | 2:16 |
| Hot Toddy | Flanagan - Hendler | 1:45 |
| Little White Lies | Walter Donaldson | 2:-- |
| I Guess I'll Have to Change My Plan | Schwartz - Dietz | 1:50 |
| I Got Lost In His Arms | Irving Berlin | 2:05 |
---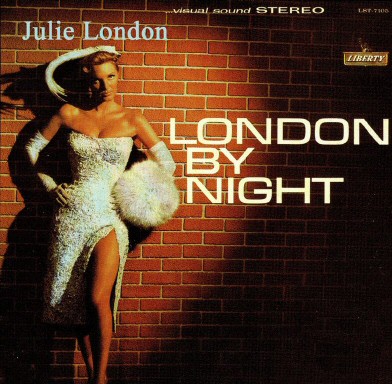 London By Night (Liberty: LRP-3105/LST-7105)
Released: 1958.
Producer: Bobby Troup. With Pete King and His Orchestra.
CD Availability: 2001 EMI two-fer, with "About the Blues."
Original liner notes (author unknown):
Composers and lyricists have written volumes in every phase of love: the chance meeting of a boy and girl, their first kiss, their declarations of love, their quarrels, their reconciliations---everything. They have written bright tunes and lyrics for the loved, and likewise sad tunes and words for the forsaken. All of which leads to the fact that "London By Night" is a love story. Here, Julie weaves her own story of a girl who finds love, loses it, and finds it again. It is a universal story---a classic story. It is told in a warm and delicate blend of voice, song, and arrangement. And no one could tell it quite as well as Julie London!
All Music Guide review by Nick Dedina:
The exquisite Julie London may be poised like a prohibition-era streetwalker on the album cover, but London By Night is a high-class, quality 1950s pop album. The standards and original tunes on the disc are strung together in such a way that they form a narrative of a lovelorn woman finding true love, getting dumped, and wandering around sadly until finding romantic redemption in the final song. London specialized in downbeat numbers and even the positive love songs are languid and moody, so they jibe well with the wrist-slashers that make up the majority of the album. Many of London's albums feature a song or two by her husband, Bobby Troup. London By Night is no exception and it features two Troup originals: the opening track, "Well, Sir," and "Just the Way I Am," which closes with the emotionally naked line "What a fool I was to dream that someday you could love me just the way I am." It's to London's credit that she could deliver lines like this so convincingly when she was famous for her beauty. It also shows how 1950s audiences were dealing with the same issues of self-worth and esteem that modern ones are grappling with, and why classic albums such as London By Night still have a place in music collections. London By Night has been reissued on CD in Japan and in Britain as a budget-priced two-for-one, paired with the equally fine About the Blues.
Our Reviews
If you'd like to share your own review of London By Night here, please e-mail me.
Tracks
| | | |
| --- | --- | --- |
| Well, Sir | Troup - Lehmann | 3:09 |
| That's For Me | Rodgers - Hammerstein | 2:26 |
| Mad About the Boy | Noel Coward | 2:11 |
| In the Middle of a Kiss | Sam Coslow | 2:19 |
| Just the Way I Am | Bobby Troup | 2:43 |
| My Man's Gone Now | G. and I. Gershwin/ Hayward | 3:50 |
| Something I Dreamed Last Night | Fain - Yellen - Magidson | 2:36 |
| Pousse Cafe | Mullaney - Jowett - Foster | 2:53 |
| Nobody's Heart | Rodgers - Hart | 2:20 |
| The Exciting Life | Hagan - Spencer | 2:31 |
| That Old Feeling | Fain - Brown | 2:29 |
| Cloudy Morning | Fisher - McCarthy | 2:13 |