When Julie London died on October 18, 2000, I hadn't even heard of her, embarrassing as that is to admit. When I was a kid in the '70s, I did watch "Emergency!", but I didn't particularly like the show. While I briefly put a picture of Randy Mantooth (garnered from Tiger Beat) on my wall, I certainly didn't pay attention to the "older folks" on the show, like Julie and her husband Bobby Troup.
So I plodded along in the darkness until the Spring of 2001. At that point, a friend I'd made online told me both about Napster and about a song she thought I'd like, by someone named "Julie London." The song was "Sway," and, Napster being completely free at the time, I eagerly listened and downloaded and then listened and listened and listened... I hadn't heard anyone sing like that before, ever. Nearly six years and dozens of albums later, I still haven't. It's not just that Julie London sounds ultra-sexy. Lots of singers try to sound sexy, but Julie has that something extra---a natural warmth and sensuality combined with complete control over her style and intonation, whether she's doing a low-key, intimate album like "Julie At Home"; a raunchy album that demands some belting like "Send for Me"; or a coolly tongue-in-cheek role-playing album like her classic "Whatever Julie Wants."
Whatever she attempted, from the "purest" and sparest of jazz vocals of her '50s albums to the intentionally slightly slurry groove of her mid-to-late-60s albums like "Feeling Good," "With Body and Soul," and "Yummy, Yummy, Yummy," Julie successfully and skillfully captured the nuance of each note and of each song. While she early-on famously denigrated the limits of her own vocal range, she was, nonetheless, capable of expressing herself naturally in a wide variety of styles that most singers of her generation (or any generation) were not similarly capable of expressing.
In the interest of full disclosure: My own very favorite Julie albums are "Julie At Home," "Send For Me," "Whatever Julie Wants," "Love Letters," "Latin in a Satin Mood," "In Person at the Americana," "Feeling Good," "With Body and Soul," and "Yummy Yummy Yummy"; I'm not a big fan of her to my mind "dull-ish" first albums and later sluggish albums like "Love on the Rocks" and "Sophisticated Lady." (Nor do I think she sings the blues particularly well on her lauded "About the Blues" album.) But don't let my own meager opinions hinder you: If you've got your own takes on her albums, there's room on every album page for your own reviews!
For budding Julie fans wondering where to start, I'd personally recommend getting "Whatever Julie Wants" first (it's not out on CD under its own name yet, but all tracks but one are available on the 1988 EMI CD called "The Best of Julie London: The Liberty Years"); next I'd suggest the 1996 EMI two-fer "Julie...At Home"/"Around Midnight"; and then the 2004 EMI two-fer "Love Letters"/"Feeling Good"; and then "Yummy, Yummy, Yummy." (Old-schoolers, go ahead, yell at me for not including "Julie Is Her Name" / "Julie Is Her Name Vol. 2"!) :)
While I was busy listening to (or trying to find) Julie's 30 albums, I also discovered another aspect of her career sometimes overlooked in the glare of her album and "Emergency!" spotlight: Her 24 films made between 1944 and 1968, with co-stars such as Buster Crabbe, Susan Hayward, Edward G. Robinson, Rock Hudson, Gary Cooper, Jose Ferrer, Jeff Chandler,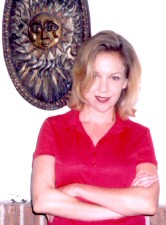 Robert Taylor, and Robert Mitchum. Though I've currently only seen 5 or so of these films (I'm working on the rest!), I remain in the meantime amazed by the breadth of her (seemingly underrated and unappreciated) show business endeavors and accomplishments.
I hope as you browse this site that you'll be inspired to learn more about Julie London by seeking out her albums and films.
October 18, 2006
JUNE 2011 ADDENDUM: This site initially debuted on October 18, 2006. Unfortunately, I stopped doing updates after June 2007. (In February 2007 I moved to New York City from Austin, Texas. After 3 years in NYC, I had to move back to Austin in March 2010 because I couldn't find a steady job in New York. All of the attempts at adjustment and readjustment precluded my paying deserved attention to this site.) My apologies to both regular and new Julie fans for my neglect because of personal circumstances. Despite the lack of updates, I still hope that what's here is still somewhat helpful as an introduction to Julie London.