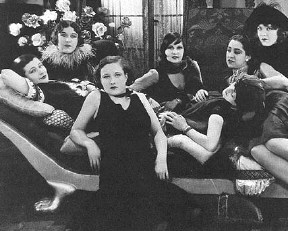 MGM Silent. 67 minutes (6 reels). US release: 5/24/26.
Not available on VHS or DVD.
Cast: Charles Ray, Joan Crawford (as "The Girl"), Douglas Gilmore, Michael Visaroff, Rose Dione, Jean Galeron.
Credits: Story: Edmund Goulding. Titles: Joseph Farnham. Director: Edmund Goulding. Camera: John Arnold. Editor: Arthur Johns. Art Direction: Romaine de Tirtoff Erte. Sets: Cedric Gibbons, Merrill Pye.
Plot Summary: Jerry, a wealthy and carefree American youth, encounters a beautiful girl in the notorious Birdcage Cafe in Paris and incurs the jealousy of her sweetheart, a ferocious apache. The apache knifes Jerry, and The Girl [Joan Crawford] accompanies Jerry to his palatial villa, then nurses him back to health; Jerry tactfully pays her to dance with the apache when again threatened, but The Girl is brutally hurt by her lover and imprisoned as a consequence--yet she loves him. Jerry, in gratitude, showers her with money and jewels, and her sweetheart abuses and threatens her on a visit to the prison. While at the races with Jerry, The Girl receives word that the apache is free and swears to kill her; she confesses her love for him, and Jerry leaves her. She returns to the cafe and dances with her lover, who tries to strangle her in a moment of fury, but Jerry intervenes; The Girl begs him to desist, and understanding that she truly loves the apache, Jerry does so. ~ American Film Institute
Notes:
In June 1925, Exhibitors Trade Review announced that Pauline Starke and Lew Cody would star in the film, based on a story by Carey Wilson.
In August 1925, Motion Picture News announced that Robert Z. Leonard would direct the film (with Starke and Cody still starring). The film was billed as the "first Ertι-gowned Fashion Special."
In March 1926, Moving Picture World announced that Goulding would direct, with a new original story and new cast (and no Erte).