Bio Music Films TV Photos Magazines/Ads Misc. Updates/Links/About
The Music of Julie London
Liberty Albums (see below) Other Albums (see below)
EPs / Singles / Soundtracks / CDs / Sheet Music
---
Click on a link to see larger cover and information for each album.







Excerpt from "The Liberty Records Story," by David Edwards and Mike Callahan. (Click link to visit the Liberty homepage.)
Liberty Records was founded in 1955 by Simon Waronker in Hollywood, California. Si was born in 1915 in a poor section of Los Angeles. When he was five, his father started him playing the violin. He was a child prodigy, starting high school at eleven and graduating at thirteen. Si got a scholarship to study violin in Philadelphia and then France. He ended up in Germany during the rise of Hitler. After barely escaping from a Nazi youth gang that was pursuing him because he was Jewish, he returned to the United States. Back in Los Angeles, he worked for 20th Century Fox from 1939 until 1955, playing musical scores for movies.

In 1955, his cousin, Herb Newman, called and suggested they go into the record business. After much thought and discussions with Alfred and Lionel Newman at 20th Century Fox, Si Waronker gave up his highly paid job to start a record company. By this time Si made up his mind, however, Herb Newman had backed out of the deal and formed his own record company called Era, so Waronker was on his own. The first releases on the label were lush orchestral recordings by Lionel Newman. If you look at the first 100 or so album releases on Liberty, you can see that Si Waronker was recording the music he new best: big band music, movie music, orchestral music and some jazz. The numbering system for the singles started with the 55000 series, probably just the year the label was established followed by some zeros, but it ran sequentially for 16 years. The first single (Liberty 55001) was Lionel Newman's somewhat ironic pairing of "The Girl Upstairs" with "Conquest."

Waronker contacted jazz artist Bobby Troup in 1955 to try to sign him to the label, but Troup was still under contract to another record company. Troup, however, talked Si into signing his girlfriend, Julie London. Julie became the "Liberty Girl" as she immediately had a hit with "Cry Me a River" (Liberty 55006, 1955) and went on to make a string of successful albums for the label. Troup himself did sign with Liberty a short time later, and recorded a series of albums for Waronker....

---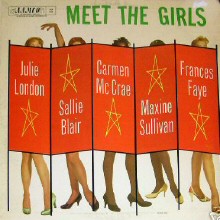 AAMCO. 1956: Meet the Girls. (ALP 308) Julie's numbers: Don't Worry 'Bout Me, You're Blase.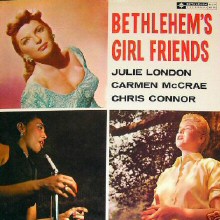 Bethlehem: 1956: Bethlehem's Girlfriends (with Chris Connor and Carmen McRae). Julie sings "A Foggy Day," "Don't Worry 'Bout Me," "Sometimes I Feel Like a Motherless Child," and "You're Blase."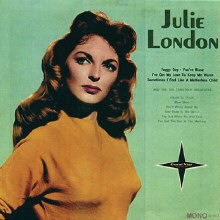 Guest Star: 1964: Tenderly Yours. (G-1417) With the Ted Comstock Orchestra. Julie sings "A Foggy Day," "I've Got My Love to Keep Me Warm," "Sometimes I Feel Like a Motherless Child," and "You're Blase." The other numbers are by the orchestra. (The album was released with alternate covers for mono and stereo.)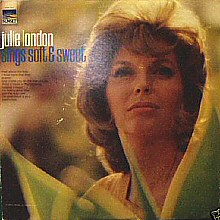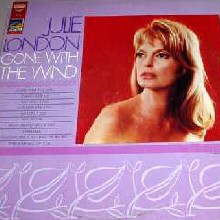 Sunset: From "The Liberty Records Story" (see above link):"Sunset was a subsidiary of Liberty, and was used for budget reissues of Liberty, Imperial, and Minit material from 1966-1970. They were generally packaged without the inner paper sleeves found with full price album issues, and were often pressed on a thick polystyrene-type plastic."
1966: Julie London. (SUM-1104/SUS-5104) Tracks: Laura/In the Middle of a Kiss/I'm In the Mood/That Old Feeling/My Love/Baby Come Home/Tain't What You Do/Bill Bailey/Spring Is Here/Blue Moon.
1967: Julie London Sings Soft and Sweet. (SUM-1161/SUS-5161) Tracks: Mad About the Boy/I Must Have That Man/Evenin'/How Come You Do Me/3 O'Clock/Nobody's Heart/My Man's Gone/Just the Way I Am/I'm Glad There Is You/Bewitched.
1968: Gone With the Wind (SUS-5207)
United Artists: circa 1969: The Very Best of Julie London. (In 1968, Liberty became part of United Artists.)