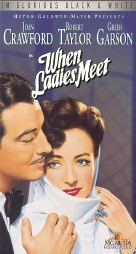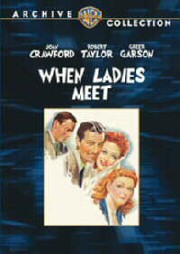 MGM. 105 minutes.
US theatrical release: 8/29/41.
VHS release: 6/24/92.
Warner Archive DVD release: 3/23/09.
Cast: Joan Crawford (as "Mary Howard"), Robert Taylor, Greer Garson, Herbert Marshall, Spring Byington, Rafael Strom, Florence Shirley, Leslie Francis, Olaf Hyten, Mona Barrie.
Credits: Based on the play by Rachel Crothers. Screenplay: S.K. Lauren, Anita Loos. Producers: Robert Z. Leonard, Orville O. Dull. Director: Robert Z. Leonard. Camera: Robert Planck. Art Director: Cedric Gibbons. Music: Bronislau Kaper. Costumes: Adrian. Editor: Robert Kern.
Plot Summary: Strange Skirts is the TV title of the 1941 MGM film When Ladies Meet. The film was a remake of a 1933 production of the same name, which starred Ann Harding, Myrna Loy and Spring Byington; their roles were taken over in the remake by Greer Garson, Joan Crawford and Spring Byington. Both films are based on a Rachel Crothers play about a lady novelist who falls in love with a married publisher. The novelist (Crawford) meets the publisher's wife (Garson) at the home of a chatterbox society matron (Byington). The fact that the 1941 version was forced to undergo the censor's scissors to a greater extent than the 1933 film was compensated by the later version's lusher production values, which earned an Academy Award nomination for MGM art director Cedric Gibbons and Randall Duell. Under both its original title When Ladies Meet and its TV-dictated cognomen Strange Skirts, this dated but enjoyable film has become a "standard" on the various cable TV services of Ted Turner. ~ Hal Erickson, All Movie Guide
Awards: 1942 Oscar nomination for Best Art Direction: Interior Decoration, Black-and-White: Cedric Gibbons, Randall Duell, Edwin B. Willis.
Film Notes:
• The film was in production from 6/23/41 to 8/11/41.
• Crothers' play opened 10/6/32 at the Royale Theatre in NYC and closed 3/4/33 after 173 performances.
• Spring Byington appeared in both the play and the movie.
• An earlier version of the film was released in 1933, with Myrna Loy, Frank Morgan, Robert Montgomery, and Ann Harding.