The Second Rise of Joan Crawford
The flappers' idol of the 1920s, who turned into "box-office poison," wins new stardom by good acting
by Donald Marshman
Originally appeared in Life, June 23, 1947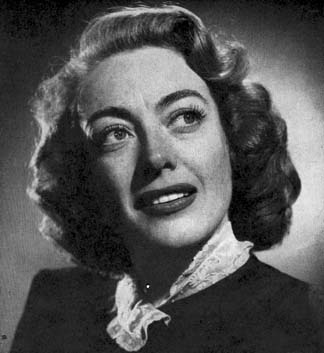 Only now that she is past 40 does Joan Crawford pose for her photographs with freckles showing
One evening not long ago, as she was leaving a New York nightclub, an elderly drunk requested an autograph from Joan Crawford, currently the star of a high-grade cinematic study of insanity called Possessed. As a movie queen of long standing she cheerfully dashed off a signature and handed it over. The oldtimer blubbered his thanks and then said, "Miss Crawford, I've admired your pictures ever since I was a little boy."
Such an occurrence gives the impression that Joan is something of an antique. Factually this is hard to verify. The year of Miss Crawford's birth has been variously identified as 1904, 1906, 1908 and 1909, the last being her own favorite. If this were true, however, her entry to Missouri's Stephens College would have been made at 13, a dubious possibility.
The important thing is that Joan Crawford has been a big star since 1928, when she played a gin-swiggling flapper in Our Dancing Daughters and personally introduced America to the wind-blown bob. Joan quickly followed her first success with Our Modern Maidens and Our Blushing Brides. Subsequently, with Paid; Letty Lynton; Sadie McKee; Chained, she paddled calmly along the stream of success in a golden canoe. Clark Gable, Robert Montgomery, Franchot Tone and Robert Young alternated, often in pairs, as her leading men, and Joan herself became one of Hollywood's biggest female draws at the box office.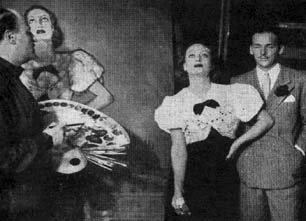 First husband Douglas Fairbanks Jr. stands by as Joan poses
Her fans were legion. Marian Dommer, an indefatigable admirer from New York City, ran the Joan Crawford Fan Club with a commissar's efficiency, editing a small newspaper and collecting annual dues of 50 cents from such loyal members as Van Johnson. Though she only made $18 a week, Miss Dommer willingly shelled out $250 a year from her own purse to keep things going. Another fan, Isidore Freeman of the Bronx, met Joan when he delivered a telegram to her and fell hard. "It was like looking at a painting one has always loved," he said. "Seeing Miss Crawford, I felt exactly the way I did in school when studying Rosa Bonheur's The Horse Fair."
The reason for this popularity lay in the Crawford beauty, in her clothes and in the parts she played. Joan was always the waitress who married into the Social Register, the Judy O'Grady who dreamed of becoming the Colonel's Lady and made the dream come true. When, in Mannequin, she put on a $2.98 bathing suit and plaintively inquired, "Why is the moon always bigger on Saturday night?" a million shopgirls sighed with sweet sorrow through their spearmint as they reflected how true that was.
Second husband Franchot Tone looks dead-pan as Joan flashes a smile
Ultimately public favor came to an end. Rain, in which Joan mistakenly tried to endow Somerset Maugham's sleazy heroine with the dignity of a Desdemona, was a bad failure. Then, in 1938, a group of movie exhibitors announced that certain famous performers were "poison at the box office." Joan was among those mentioned and the anti-Crawford band wagon filled up overnight. Rumors flew that she bribed autograph hounds to pursue her. Her employers, Metro-Goldwyn-Mayer, tried to back Joan up by ostentatiously signing her to a new contract, but no one was fooled. Through the movie industry and even from the public came the word: "Crawford has slipped."
Like Admiral Nimitz and Gene Autry, Joan Crawford was born in Texas. Her name was Lucille LeSueur Cassin and her mother was a poor woman whose two marriages each ended in the divorce court. After moving to Kansas City, Mo., Joan, nicknamed "Billie," was entered in a convent. She washed dishes for her board and keep there and after graduation somehow wangled entrance to Stephens College, where she waited on table to pay her way. The faculty graded her "inferior" or "incomplete" in every course except dancing ("superior") and she left after two months. Then came a job as a stock clerk in a Kansas City department store at $15 a week. Joan got her first whiff of the artistic world by winning a dance contest at the Jack-O-Lantern Cafe and entered show business by dancing in a nightclub chorus. Ultimately, she migrated to New York where Harry Rapf of M-G-M noticed her in the front line of The Passing Show and extended her a contract. At first Joan turned up her nose, but wiser heads prevailed and she arrived in Hollywood on New Year's Day, 1925, having seen just six movies in her life.
M-G-M first got Joan named a Wampus Baby Star and then used this as an excuse to flood the country with cheesecake pictures. Because her stage name of Lucille Le Sueur was considered unpronounceable, Movie Weekly magazine held a contest to give her another. The winner was submitted by Mrs. Marie M. Tisdale of Albany, N.Y., an elderly crippled lady who won $500 for her ingenuity and used it to pay hospital bills.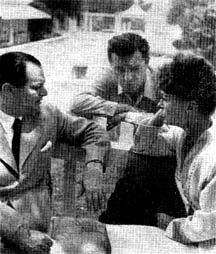 Third husband Phil Terry talks to Joan and Producer Jerry Wald (left)
With success in Our Dancing Daughters came romance. In 1929 Joan married Hollywood's crown prince, Douglas Fairbanks Jr., son of the great Doug and stepson of Mary Pickford. The old folks were none too pleased with this, mostly because Joan was from the other side of the tracks. For a long time they refused to receive her at Pickfair, the promised land of all Hollywood social climbers.
The couple was divorced in 1933. On this occasion Joan told the press, "I am convinced that an actress should not marry." Two years later she married Franchot Tone, a millionaire's son and member of Phi Beta Kappa. His grandmother died the same day. The Tones took singing lessons and admired each others dachshunds until 1939, when they were divorced and Joan announced, "Marriage was a mistake. I'm not the marrying kind." In 1942 she married Phillip Terry. At other people's houses they began the practice of tapping out "I love you" in Morse code to each other across the dining room table. This pleasure took three years to fade, but fade it did, and Joan's postmortem statement was terse: "No more marriage for me," she said. Lately she has once more been reported hovering near the altar.
Her professional life and her love life offer a contrast which is perhaps the key to Joan Crawford's character. A childhood that was unhappy and poverty-stricken kindled in her, as it has in so many, a burning ambition to achieve a world of comfort, good manners and success. No Judy O'Grady in any Crawford picture ever wrestled riches from rags with more determination than Joan herself. On the other hand she has often been diverted from her pursuit of fame and gold by a nature that is incurably romantic. At present four adopted children suffice to make the Crawford house (27 rooms) a home.
In 1938 Joan realized that the public was tired of seeing her as Judy O'Grady. She tried to change her style and, in 1941, A Woman's Face showed her as a girl whose life was rendered unbearable by a great scar on one cheek. M-G-M hailed the birth of "a new Crawford," but the customers were still apathetic to Crawford, new or old. Even so Joan felt that perhaps her salvation lay in "unsympathetic" roles.
In 1943, she resigned from M-G-M because "I was being taken for granted." This departure also signaled the loss of her great personal battle with Norma Shearer. Miss Crawford and Miss Shearer had always envied each other. Outranking Joan, Norma received choicer roles, bigger billing and more publicity. As heads of opposing camps, the two actresses engaged in open warfare, but "the first lady of the screen," as M-G-M called Norma, got the upper hand and ultimately saw Joan start downhill in a succession of bad parts. When Joan resigned her contract M-G-M paid her a lump sum to square things and sighed with relief. All over Hollywood the cocktail-hour gravediggers said with finality, "Crawford is through."
At this point Joan signed a short-term contract with Warner Brothers. Realizing that one more bad picture would put her under for the third time, she insisted on choosing her own part. In six months she found nothing suitable. When the Warners became obviously impatient Joan announced that she was voluntarily going off salary. It was another year before Producer Jerry Wald came up with the right picture for her. This was Mildred Pierce and for her performance Joan won the 1945 Academy Award. Some people say that the Oscar -- for which Joan beat out Ingrid Bergman, Greer Garson, Jennifer Jones and Gene Tierney -- was awarded on sentiment. This may be true, but Joan's performance as Mildred, a mother victimized by her own daughter, was her best to date.
In Hollywood the wind shifted. At Warners' nothing was now too good for their Joanie. "Joan was the first star I loved 20 years ago," gushed Elsa Maxwell. In Possessed Miss Crawford gives a performance that outdoes Mildred. Her earning power, a rumored $250,000 per picture, is her highest ever. Heaven only knows what Norma is thinking now.