Celebrating 10 Years of BOE: 2004 – 2014
You can donate year-round to this site to help keep Joan's legacy going strong online. Your support is always appreciated.
---

[in last month]
10/30/14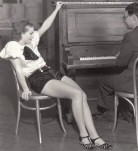 PHOTOS:
1927: On the roof of her Roxbury home, shot by Ruth Harriet Louise.
1931: Film still from This Modern Age, with Monroe Owsley and Pauline Frederick.
1932: A bigger, better replacement for a film still from Grand Hotel, with John Barrymore.
1933: Dancing Lady -- Shooting an early scene, and publicity on the set.
---
10/29/14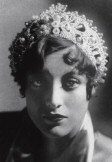 PHOTOS:
1927:
The Taxi Dancer -- Film stills with Owen Moore, one and two.
Twelve Miles Out -- A film still with John Gilbert.
1928:
Across to Singapore -- Publicity with Ramon Novarro.
Four Walls -- Publicity shot by Ruth Harriet Louise.
---
10/27/14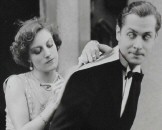 CELEBRITY LETTERS TO JOAN: 1973 from George Cukor.
LETTERS FROM JOAN:
1943: To a fan with news of little Christina and "Phillip II."
1954: To a newspaperman re her recent Texas tour.
1960: To an MCA exec with thanks for flowers in Toronto.
1962: To Shirley Eder re Barbara Stanwyck and Baby Jane shooting schedule.
---
10/25/14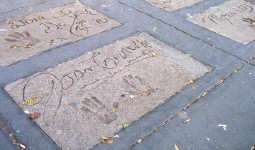 ENCYCLOPEDIA: T -- Theatre 80: Joan placed her handprints at this East Village revival theater in 1971. Here's an updated entry including a brief history of 80 St. Marks, plus 4 new photos and 3 new links.
PHOTOS:
1968: Berserk -- New, with Ty Hardin, one and two; a bigger, better color replacement; plus a bonus screen shot of the circus parade--no Joan, just an indicator of the surreal proceedings!
---
10/24/14
FILMS:
A US poster for The Caretakers.
Strait-Jacket -- A trade ad taken out by director William Castle featuring praise for the film from columnist Dorothy Kilgallen. And a 1972 newspaper ad promoting a re-run of the film on Chicago's WGN.
PHOTOS:
1963: Two Pepsi Product Placement screen shots from The Caretakers.
---
10/23/14
PHOTOS:
1957: Columbia publicity for Esther Costello.
1962: What Ever Happened to Baby Jane? -- Screen shots one and two, and a film still.
1963: A candid with comedian Gene Baylos.
---
10/21/14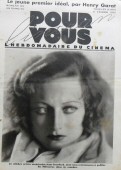 MAGAZINES: P (part 2) -- Over the past year or so, I've been working my way alphabetically through the magazines, adding larger covers (increasing the height from 236 pixels to 400) when available. Tonight, I've finished the end of the Ps, adding 29 larger covers for that page, along with 2 brand new 1932 covers for France's Pour Vous.
If you visit any Magazine page and discover that you have a larger version that I can add, please send it in.
---
10/19/14
FILMS: Added a British lobby card for The Damned Don't Cry.
PHOTOS:
1951: Publicity for Goodbye, My Fancy with Janice Rule. And a color candid with Cliquot.
1953: Torch Song publicity with Cliquot.
1954: Bigger, better replacement for a Johnny Guitar publicity photo.
1955: Female on the Beach film still. And a candid with George Reeves.
1956: At London's Dorchester Hotel with Laurence Harvey and Al Steele.
---
10/18/14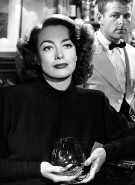 PHOTOS:
1946: Humoresque -- New photos one and two; and bigger, better replacements one, two, and three.
1948: At the 20th annual Academy Awards with Greg Bautzer.
---
10/16/14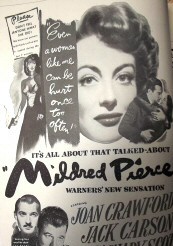 FILMS: Warner Bros. pressbook for Mildred Pierce.
1945 PHOTOS: Mildred Pierce screen shots (plus one film still):
On Kay's deathbed with Ann Blyth and Lee Patrick (Mrs. Biederhof), one and two.
Paying for Monty Beragon (Zachary Scott), one and two.
Recovering from Monty Beragon, one and two (the latter with Butterfly McQueen).
---
10/15/14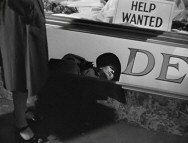 1945 PHOTOS: Mildred Pierce screen shots (plus one film still):
At the diner: "Help Wanted"; and with Eve Arden one and two.
Fireside with Zachary Scott: one, two, and three.
---
10/14/14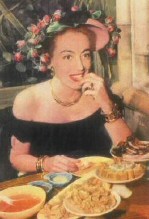 ENCYCLOPEDIA: D -- Don the Beachcomber: Updated and expanded the entry with a photo, historical info, and Christina quote from MD.
PHOTOS:
1941: On the set of When Ladies Meet with Herbert Marshall.
1942: Film still from Reunion in France with John Wayne.
1943:
A film still from Above Suspicion with Conrad Veidt and Fred MacMurray.
A publicity shot with husband Phil Terry.
1947: Color publicity by Bert Six. And color magazine candid eating her "favorite meal" of "fried shrimp, eggroll and barbecued ribs" at Don the Beachcomber.
---
10/12/14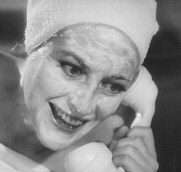 FILMS: A ticket to and 3 pages from the program of the premiere of The Women at Grauman's in 1939.
PHOTOS:
1935: I Live My Life -- Film stills with Brian Aherne and with Fred Keating.
1936: Love on the Run -- Film still with Clark Gable; and a prototype-Crystal Allen screen shot (thanks to Spiros).
1939: A candid with niece Joanie.
---
10/11/14
ART: Added a larger version of "Joan Crawford says..." by James Rosenquist from 1964. The painting is now owned by the Museum Ludwig in Cologne, Germany, and I've also included on this page a photo of the work as currently displayed in their gallery.
ENCYCLOPEDIA: F -- Robert Frank: Added an entry + photo for the photographer who toured America for 2 years in the mid-'50s and included in his book The Americans this now-famous 1956 shot from Detroit featuring Joan's image.
PHOTOS:
1926: Fashion publicity.
1932:
Grand Hotel -- Film stills one (with phone) and two (with Lionel Barrymore on his sickbed).
Letty Lynton -- A film still with Nils Asther, and a publicity shot with Robert Montgomery.
---
10/09/14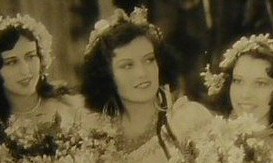 FILMS:
Untamed -- An MGM photo card featuring all photo cards for the film. And Australian sheet music for "That Wonderful Something" (with ukulele arrangement!).
The Duke Steps Out -- US sheet music for "Just You" (with ukulele arrangement!).
PHOTOS:
1928:
Across to Singapore -- Film still with Ramon Novarro.
Dream of Love -- Film stills with flower girls, one and two.
---
10/07/14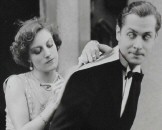 LETTERS:
1928 -- An extremely rare 2-page handwritten letter to long-time correspondent Dan Mahony re her dismay over her performance in Rose-Marie. (Many thanks to Robert Leininger for allowing me to reproduce this letter from his personal collection.)
1951 -- To a fan, with thanks for creative Valentine, plus illness and Easter news.
1957 -- To a fan, with personal travel news. And two letters to another fan, with Pepsi-plant travel news and Middle East travel news.
1959 -- To a fan couple, with thanks for their comfort (plus the only time I've ever seen "2 East 70th" typed into the top of the letterhead).
1969 -- To a detective in Rochester, with thanks for protecting her.
---
10/05/14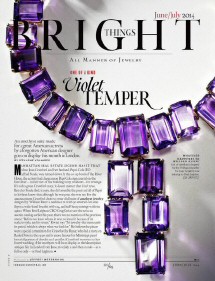 NEW! The Collectibles page had gotten a bit unwieldy, so I've re-organized some of the items that once appeared there into separate pages/categories. There are now separate pages for Joan's personal things: CLOTHING/FURS, JEWELS, and ART/AWARDS/OTHER.
The Collectibles page is now centered on mass-media and other items (released both during and after her lifetime) featuring Joan as a selling point. The new "Joan's Stuff" pages, on the other hand, are specifically things that Joan once personally owned.
On the new JEWELS page, I've added the following:
4 photos + info for the "Boucheron parure" -- A 3-piece collection of aquamarine/diamonds featured in 1939 "The Women" publicity and purchased by Andy Warhol at an auction the year after Joan's death; now owned by Neil Lane jewelry and on display at Boston's Museum of Fine Arts. (Thanks to Roland Hui for the 2 Boston photos.)
A photo + info from the Raymond Yard citrine set created in 1940 and currently on display at NYC's Park Avenue Armory.
A 2014 article + photos from Town & Country on William Ruser's amethyst suite on display this past summer at the Masterpiece London antiques show.
On the new ART/AWARDS/OTHER page, I've added a large Margaret Keane painting of Joan plus 2 photos of Joan with the painting from 1963 and 1970. And added a Michaele Vollbracht portrait, as it appeared in the bedroom of Joan's Imperial House 22-H apartment.
---
10/03/14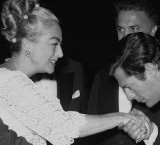 PHOTOS:
1963: At the NYC premiere of Fellini's 8-1/2, with Marcello Mastroianni.
1968: Berserk!: On the set with Ty Hardin. Plus a publicity shot with a murder victim. And a film still.
1970: A screen shot from Trog.
---
10/02/14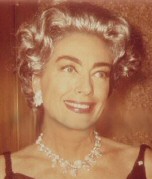 EVENTS: Lypsinka will reprise her role as Joan at Town Hall in "The Passion of The Crawford" -- 20 performances in NYC from November 5 through January 3. (This is the first time since 2005 that the show has been performed in NYC.)
PHOTOS:
1962: Screen shots from What Ever Happened to Baby Jane?: one, two, three, four, and five.
1963: At a Pepsi memorial for Al Steele with "underprivileged kids" really into Al Steele. And a color candid at a CARE awards ceremony.
---
10/01/14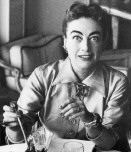 FILMS: A publicity mailout with heated synopsis for The Best of Everything.
PHOTOS:
1956: Candid with cocktails.
1957: Bang! Bang! On the set of Esther Costello.
1959:
A film still from The Best of Everything with Hope Lange.
A candid on the SS United States.
---
9/30/14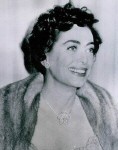 PHOTOS:
1952: Film stills from This Woman Is Dangerous with Dennis Morgan, one and two.
1953:
Torch Song -- Screen shot with Gig Young.
Arriving at the Pantages Theatre for the first televised Oscars.
1954: Candid in Hollywood with writer Mike O'Shea.
1955: Female on the Beach screen shots one, two, and three.
---
10 Years of BOE: 2004 - 2014
This website, "The Best of Everything: A Joan Crawford Encyclopedia," debuted on March 23 exactly 10 years ago.
In the months leading up to this day, I've thought long and hard about how to best express what honoring Joan online for the past decade has meant to me. Here's a biographical bit from an initial draft: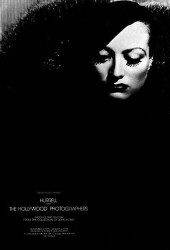 I first became a true fan of hers in '87, when I was 22. When there was no TCM, and just barely any VHS tapes. If I wanted to see any Joan Crawford movies, I either went to my university library and checked one out and then watched it in a tiny library viewing room on a plastic chair, or I "splurged" ($20 on a college kid's non-income was splurging) on renting a video-player to hook up to my 12-inch black-and-white TV. (The only Joan movies then available for rental at Austin video stores: Grand Hotel, Autumn Leaves, Johnny Guitar, Strange Cargo.)
It was also in 1987 that I ordered from a local graphics store a 3' x 4' poster featuring Joan from a Hurrell photography show in Chicago 10 years earlier. I still remember how proud I felt carrying the mounted poster home under my arm on the college shuttle bus, how much I wanted people on the bus to KNOW THIS ABOUT ME: I LOVE JOAN CRAWFORD.
This poster has hung in the living room of every one of the 14 places I've lived since 1987 (except for my 3 years in NYC, where I flew off to live with only a suitcase too small to fit it in). An artwork, a beauty, a symbol, a guardian. Representing everything from Joan's movies that I've watched (and gotten goosebumps from) to her perseverance to, more mundanely, my own perseverance and what has continued to be important to me, and a touchstone, for over a quarter of a century.
But why create this website? And why continue working on it for a decade? What I wrote 10 years ago on the "About" page of this site still very much holds true today:
After participating in various Joan message boards for a couple of years, I realized that people were often posting very helpful and informative info re Joan that was subsequently being forgotten as the later messages scrolled on... And most of the Joan websites available primarily seemed to focus either on the camp aspects of her later career or on her "glory days" from MGM through Warners; or else the webmaster would get bored and discontinue the site on a whim.
Neither the Camp nor the Glamour Girl (nor the, um, "discontinued") approach, I feel, is adequate for a star and woman whose career spanned an incredible 50 years from the Silents through the Television Age and whose various incarnations defy easy categorization. On this site, I don't just want to show pretty pictures from the '30s or make fun of her grand guignol era; instead, I want to show where Joan Crawford came from as well as every step of her journey, including what she had to say about what was going on around her. The woman had a brain and guts and opinions and talent as well as a face, and her longevity as an actress was hardly reliant solely on lucky breaks or pure sex appeal; she worked to get to the pinnacle of her field and subsequently worked to maintain her career and status long beyond what anyone thought tenable.
I'm extremely in awe of both her talent and her business acumen, as well as of her beauty and style, and this site is intended to honor all of these aspects of this astonishing woman and actress, as well as to be a repository for otherwise-scattered information.
Joan Crawford's contributions to film, and to the entertainment world and pop culture in general, have been immense, and her personal story inspiring. I'm proud to be able to make this small contribution in recognition of her talent and legacy.
What I wrote 10 years ago at the conclusion of the Joan biography on this site expands a bit on why she continues to fascinate both me and, perhaps, the rest of the world:
Whatever the path that leads to the discovery of Joan's body of film work, Cukor was right: Joan Crawford will never die. Obviously, celluloid and the VHS and DVD have in themselves already granted immortality to certain films and their stars. And the media certainly have been fascinated by Joan Crawford for the past 80-odd years. But that's either a cold, "officially historical" kind of permanence (in the former case) or an ephemeral, arbitrary focus of the spotlight (in the latter case). Crawford's own immortality has been achieved, and will continue to be achieved, on an individual and personal level, as it has been since her film debut in 1925---every time a viewer has gotten, or will get, a jolt from Dangerous Diana's exuberant Charleston, or Vienna's eyes blazing as she stands atop that staircase, or Lane Bellamy's death-wrestle with Titus Semple, or Myra Hudson's nerve-wracking wait in the closet, or Flaemmchen's freshness and verve, or Helen Wright's lushly gorgeous angst, or Sadie Thompson's indignant anger, or Crystal Allen's bitchy audacity, or Janie Barlow's naive spunk, or Blanche Hudson's masochistic ordeal...
A single initial jolt of emotional recognition, of connection. Followed later, perhaps, by sheer admiration not only for the woman's artistry, but also for her intense struggle for expression and survival in a world that counted her out on numerous occasions.
A bow to a brave, audacious soul. Joan Crawford lives.
She does indeed.
In closing: A huge heart-felt THANK YOU to all of the readers of this site who have taken the time over the past decade to send in their Joan facts, photos, articles, remembrances, and reviews. This site would be a much, much lesser place without all of your contributions. I am deeply grateful for all of your help.
Thanks also to all of the fellow Joan fans that I've met over the years in both New York City (from 2006 to 2010, during my visits to her Ferncliff crypt and at various showings of her movies at the Chelsea, as well as some random sightseeing ventures! Special shout-out to NYC's John for squiring me around town one evening from the Rainbow Room to a Chelsea drag club, and to Jersey's Mike O'Hanlon for driving me out to Ferncliff!), and in San Francisco (2006, at Ann Blyth's hosting of "Mildred Pierce" at the Castro). As I wrote 10 years ago on the "About" page of this site:
Before, my friends had been merely tolerant of my Crawford obsession, but when I got online I discovered that there were other people just like me out there who really looooved her! (It's always a happy day when you find you're no longer "merely tolerated"!
Here's to worldwide Joan Aficionados (aka "Joanuts") -- past, present, and future. May this site continue to honor the Joan Crawford legacy, satisfying long-time fans and gaining converts, for decades to come.
Yours in Joan,
Stephanie Jones
Austin, Texas
March 23, 2014
If you've enjoyed this site for the past 10 years... Please consider donating to help with its upkeep.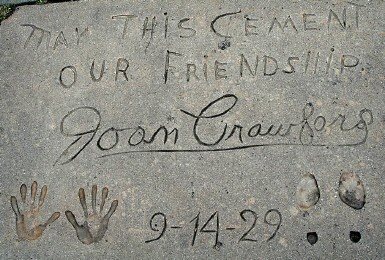 ---