Celebrating 14 Years of BOE: 2004 – 2018
You can donate year-round to this site to help keep Joan's legacy
going strong online. Your support is always appreciated.
---

[in last month]
---
6/15/18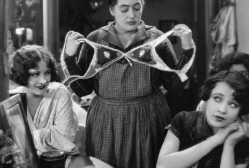 1925 PHOTOS:
Pretty Ladies -- A publicity photo, and a backstage film still.
Sally, Irene, and Mary -- Publicity with Constance Bennett and Sally O'Neil; and a film still with O'Neil.
FILMS: Pretty Ladies (Joan's first credited role, as "Lucille LeSueur")
A title card with a line spoken by Lucille's character, Bobby. (Be sure and read Shane's film review while you're there!)
A colorized lantern slide.
A San Francisco Loew's theater billboard promoting the film's premiere.
A four-page program.
---
6/13/18
1952: On the set of Sudden Fear with Shirley Booth.
1955: Publicity for Queen Bee (bigger, better replacement with autograph).
1956: Candid with Vera-Ellen in London.
1957: On the set of The Story of Esther Costello with director David Miller.
1963: A film still from The Caretakers with Herbert Marshall.
1969: A still from TV's Night Gallery (bigger, better replacement).
FILMS: A poster for The Caretakers from Argentina.
---
6/11/18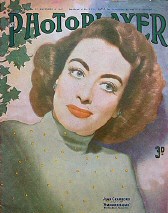 MAGAZINES:
Cine Aventuras (Argentina; April 1954): Cover.
Hollywood Studio Magazine (Aug. 1983): Article: The Lovely Side of Crawford!
Modern Knitting (Spring 1949): Article and photo of Ribbon Dress (knitted by Joan).
Oggi (Italy; July 1953): Cover.
Photoplayer (Australia; Nov. 1947): Cover.
Woman's Home Companion (Feb. 1955): First page of Part II of "The Story I've Never Told" article by Jane Kesner Ardmore (Joan's future biographer).
---
6/09/18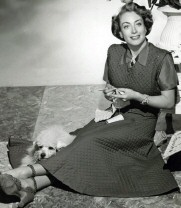 PHOTOS:
1949: Publicity by Bert Six with knitting and Cliquot.
1950: On the set of The Damned Don't Cry with Kent Smith and Steve Cochran (includes press caption).
1953: Publicity with Christina.
1955: A film still from Female on the Beach with Charles Drake.
RECORDINGS: A cover for the 1953 Joan narration of The Littlest Stork.
---
6/07/18
ART / ENCYCLOPEDIA: Added a 2001 photo of James Rosenquist with his 1964 painting Untitled (Joan Crawford Says). Also updated the Rosenquist Encyclopedia entry with new info and links re the artist's career.
ADS:
1949: Auto-Lite spark plugs (bigger, better replacement)
early 1950s: Pepsodent gum "Film Arkiv" card (Denmark)
1952: Ronson lighters
1993: TNT "Bad Movies We Love" series
FILMS: Movie posters for 1950's Harriet Craig (a US six-sheet) and Johnny Guitar (Italian).
---
6/05/18
PHOTOS:
1940: A film still from Strange Cargo with Clark Gable and Ian Hunter.
1941: Publicity by Hurrell (bigger, better replacement).
1942:
They All Kissed the Bride -- A film still with Melvyn Douglas.
Reunion in France -- A film still with John Wayne.
1946: Humoresque -- A replacement film still with new press caption.
1949: Flamingo Road -- Warners publicity artwork (new). Plus replacement publicity photos with new press captions, one and two.
---
6/02/18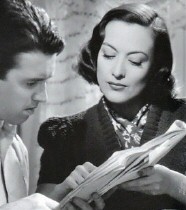 PHOTOS:
1934: Publicity for Forsaking All Others by Hurrell (bigger, better replacement).
1937: A Ross Verlag postcard with image from The Bride Wore Red.
1938:
Mannequin -- A film still with Spencer Tracy (includes press caption).
The Shining Hour -- Film stills one (with Oscar O'Shea and Frank Albertson; includes press caption), and two (with Robert Young).
1939:
The Ice Follies of 1939 -- A film still with James Stewart and Lew Ayres (note the difference in Joan's hairstyle -- shorter and side-parted -- in this earlier-shot scene and the scene that eventually appeared in the movie with longer, middle-parted hair).
---
5/31/18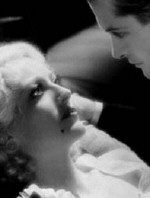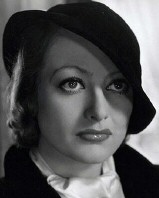 FILMS: A title screen shot for Laughing Sinners.
PHOTOS:
1930: A film still from Our Blushing Brides with Robert Montgomery.
1931: A screen shot from Laughing Sinners.
1932: A film still from Letty Lynton.
1933:
A film still from Dancing Lady with Franchot Tone.
Publicity by Clarence Sinclair Bull.
---
5/29/18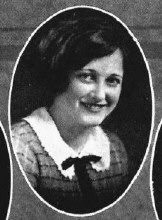 Stephens College, which Joan attended in the fall of 1922, has an online archive for its yearbooks: See the 1923 Stephensophia yearbook page to discover more about life on campus during Joan's one semester there.
GEOGRAPHY: Added 3 new 1922 photos of Stephens College to the "Columbia, Missouri" page.
Encyclopedia: S: Added new photo and links to the "Stephens College" entry.
Encyclopedia: W: Added new photo and bio to the "James M. 'Daddy' Wood" entry.
PHOTOS pre-1925: Added three new photos to the page for the "Lucile Cassin" Stephens College yearbook photo.
---
5/26/18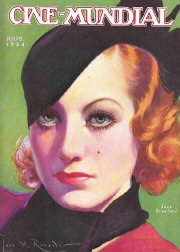 MAGAZINE COVERS:
Cine Illustrato (Italy), 1937.
Cine-Mundial (Spanish-language), 1932 and 1934.
Cine-Romanzo (Italy), five from 1927 thru 1932.
Kines (unknown country), 1929.
Screen Secrets (US), 1928.
Zenit (unknown country), 1934.
---
5/25/18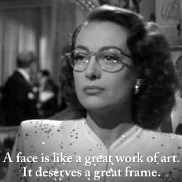 ADS:
1929: Energine cleaning fluid
1953: Lux soap
1996: LA Eyeworks
COLLECTIBLES: A 1934 ad for "Movie Star Lamps" (Joan one of 16 available).
FILMS: Reviews for Across to Singapore: 1928 from The New Yorker, and 2013 by Jeff Rapsis (of silentfilmlivemusic.blogspot.com). (If you have your own review of Across, or any other Joan film, please send it in!)
---
5/23/18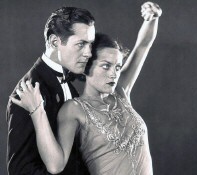 PHOTOS:
1929:
Untamed -- With Robert Montgomery: Publicity and a film still.
Publicity by Ruth Harriet Louise one (for Delman shoes) and two.
1931: Seven screen shots from Dance, Fools, Dance (culled from pre-code.com).
---
5/19/18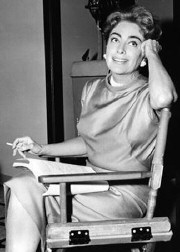 PHOTOS:
1959: Candid on the set of The Best of Everything.
1960: Color candid.
1962: Candid emerging from car.
LETTERS FROM JOAN:
1943: To a fan with thanks for remembering her anniversary.
1956: To literary agent H. N. Swanson.
1959: To a fan re her possible new TV series and The Twins.
1961: To a fan re her upcoming autobiography (note also a letter of the same day to a different fan with almost exactly the same wording).
1962: To a friend re the friend's bad review of a movie and "ludicrous frame."
1964: Christmas greetings to Maurice Chevalier.
1969: A telegram to Rod Serling re Planet of the Apes; and letter to a fan with thanks for birthday wishes.
CELEBRITY LETTERS TO JOAN:
1967: From Agnes Moorehead: "Winning is wonderful..."
1968: From former stepmother-in-law Mary Pickford, unable to attend Joan's Brandeis ceremony.
1972: From director John Huston: "The last time I set eyes on you was at a German lawn party..."
1974: From Lord Mountbatten; and handwritten from Jackie Cooper.
---
5/17/18
1953: Torch Song publicity.
1954: Johnny Guitar screen shots one (staircase), two (with Scott Brady and Sterling Hayden), and three.
1955: Female on the Beach film still with Jeff Chandler.
1956: A candid with husband Al Steele.
---
5/15/18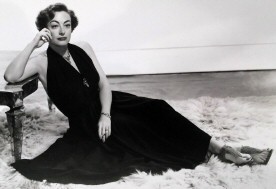 PHOTOS:
1950:
On the set of The Damned Don't Cry -- Grooming Cliquot while being groomed herself (bigger, better replacement).
Publicity for Harriet Craig shot by Robert Coburn.
Needlework candid at home shot by Jack Woods (includes press caption).
1951: Publicity with tea.
1952: Publicity one (with stockings) and two (polka-dots).