Celebrating 10 Years of BOE: 2004 – 2014
You can donate year-round to this site to help keep Joan's legacy going strong online. Your support is always appreciated.
---

[in last month]
9/17/14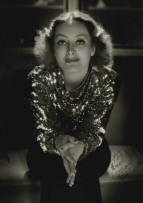 PHOTOS:
1930: Publicity shot by Hurrell.
1932:
Letty Lynton -- Super-close-up shot by Hurrell.
Rain -- Publicity shot.
Candid at the Mayfair Club with Gable, Shearer, and husband Doug Jr. (Thanks to Mike O.)
1933: Dancing Lady -- Film still with Franchot Tone, publicity with Gable, and fashion publicity.
1934:
Publicity for Chained with Clark Gable.
Publicity shot by Hurrell one and two.
---
9/14/14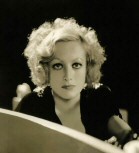 PHOTOS:
1928: Film still from Our Dancing Daughters with Johnny Mack Brown.
1930: Film still from Paid with Robert Armstrong.
1931:
This Modern Age -- Screen shots kissing Pauline Frederick one and two; and a publicity shot.
Film still from Possessed.
---
9/12/14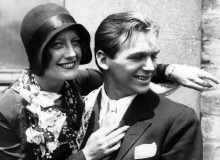 PHOTOS:
1928:
Rose-Marie -- A publicity shot, and on the set with director Lucien Hubbard.
Our Dancing Daughters -- Bigger, better replacements one and two.
A publicity shot by Ruth Harriet Louise for Tide of Empire.
1929:
A film still from The Duke Steps Out.
A screen shot from Our Modern Maidens, with Doug, Jr., as he does impressions.
Just married to Doug Fairbanks, Jr., in New York City.
---
9/10/14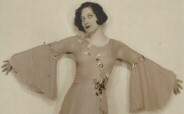 ADS: 1928 for Finesse cosmetics and 1929 for Betty Lou powder puffs.
PHOTOS:
1927: Fashion shots one, two, and three; and doing the Lindy Hop.
---
9/07/14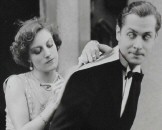 LETTERS: Added 20 new letters.
1941 -- To a fan re When Ladies Meet, plus some chit-chat re personal plans.
1947 -- To a fan re his art show and P'Town.
1950 -- Letters one and two to a Brooklyn fan re her upcoming visit to the Warners studio lot (the second includes the stage pass that Joan got for her).
February 1951 -- To the same fan re Joan's recuperation from pneumonia.
May 1951 -- To the same fan and her husband with thanks for being her friend.
November 1951 -- To an Ohio fan re moving to California and getting a job as a script girl.
January 1952 -- To the above Brooklyn fan re their mutually missing their kids.
February 1952 -- To the Brooklyn fan re filming Sudden Fear and Johnny G.
March 1952 -- To the Brooklyn fan re the woman's son in the service and Sudden Fear.
July 1952 -- To the Brooklyn fan re touring for Sudden Fear publicity, plus news of kids.
October 1952 -- To the Brooklyn fan re Sudden Fear reception, plus other work and kid news.
1958 -- To unknown celebrity "Bill," sorry that their paths didn't cross in Europe.
1960 -- To a fan with news of her upcoming cruise to South America with The Twins, plus why no fan club.
1961 -- To a fan with thanks for his postcards and movie reviews, plus her TV news.
1962 -- To the fan above with TV and Baby Jane news.
1967 -- To a laid-off Pepsi employee.
1969 -- To a Holiday Inn employee with thanks for the fruit basket.
1970 -- To a fan with brief greetings and Trog news.
1976 -- To a fan with thanks for Christmas card and Liberty quarter.
ENCYCLOPEDIA: P (Phone Numbers) -- Added 2 phone numbers of Joan, from 1950 and 1958.
ENCYCLOPEDIA: S (Social Security Number) -- Added an entry for Joan's SS#.
---
9/04/14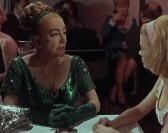 FILMS:
What Ever Happened to Baby Jane? -- Added all pages for the Warner Bros. pressbook.
Berserk -- Title shot, and other screen shots one, two, three, four, and five.
---
9/01/14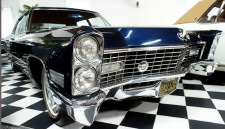 NEW PAGE: Joan Crawford's Cars! Here's what I've discovered about Joan's cars ranging from 1929 to 1967. Since I'm no great car buff, I'll need your help in making the page complete and accurate. Please visit the page and then, if you would, send in any additional info/photos you might have. I appreciate your help with this new page!
---
8/30/14
PHOTOS 1968: Thanks to Spiros for these color screen shots from The Lucy Show, one and two.
COLLECTIBLES: Thanks to Ryun E. Johnston for sharing from his personal collection his display of Joan's "Katie" Award, originally received by Joan in 1968 from the Dallas Press Club.
EVENTS: Just a reminder, if you're in the Boston area: There's a 12-hour Joan film marathon at Harvard that starts Saturday at 7pm and runs through the break o' day. Do you dare? Films featured: Flamingo Road, Damned Don't Cry, Female on the Beach, Baby Jane, Strait-Jacket, Autumn Leaves, and Trog.
---
8/29/14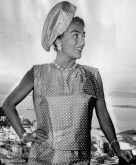 PHOTOS:
1959: At a party for 20th Century-Fox, shot by Eve Arnold.
1962: A screen shot from Baby Jane. And a candid at San Francisco's Fairmont Hotel.
1963: A nice close-up at the Academy Awards.
1965: 3 candids showing off her hats.
1967: Color candid with actor Vince Edwards.
1968: A still from The Lucy Show, with Lew Parker.
---
8/26/14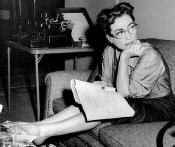 PHOTOS:
1953: Candid at Romanoff's with Cesar Romero.
1955: Female on the Beach -- Color publicity with Jeff Chandler, and a screen shot.
1956:
Autumn Leaves -- Candid on the set.
Candid in Havana with Nat King Cole, et al. Color candid at club.
1957: Candid fan snapshot at Alfredo's restaurant in Rome, and at the Brown Derby with Maureen O'Hara and Roddy McDowell.
---
8/24/14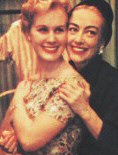 1956 PHOTOS:
Added 15 bigger, better replacements now sans watermarks (plus 1 new photo) shot by Eve Arnold in NYC, most with Christina.
(For Arnold's account of this 1956 shoot, see the excerpt from her '95 book In Retrospect. See also the 1956 Woman's Home Companion article for which the photos were initially shot.)
---
8/22/14
EVENTS: Bostonians, you're in for a big event! The Harvard Film Archive is pulling an all-nighter with 12 HOURS OF JOAN (7pm to 7am) starting on Saturday, August 30. Films: Flamingo Road, Damned Don't Cry, Female on the Beach, Baby Jane, Strait-Jacket, Autumn Leaves, and Trog. Says their website: We offer this marathon as tribute to her persistence in the face of Hollywood's ageism and the collapse of the studio system. Watch with us all night as a star rages against the dying of the light until the sun comes up.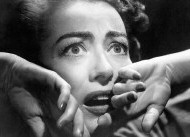 PHOTOS:
1950: The Damned Don't Cry -- Screen shots one and two.
1952: A huge iconic publicity shot from Sudden Fear.
1953: Torch Song -- A wardrobe test, and a publicity shot.
1954: Johnny Guitar -- With Sterling Hayden, and with Scott Brady.
---
8/20/14

PHOTOS:
1947:
Color on the first day of shooting Possessed.
Color on the set of Daisy Kenyon.
And a candid with Christina and Christopher.
1949: Six smokin' screen shots from Flamingo Road.
---
8/19/14
PHOTOS:
1942: Big, bold color publicity candids, one and two.
1943: Above Suspicion -- On the set with director Richard Thorpe, and a film still with Fred MacMurray.
1945:
Mildred Pierce -- A screen shot with Ann Blyth, and a film still.
---
8/17/14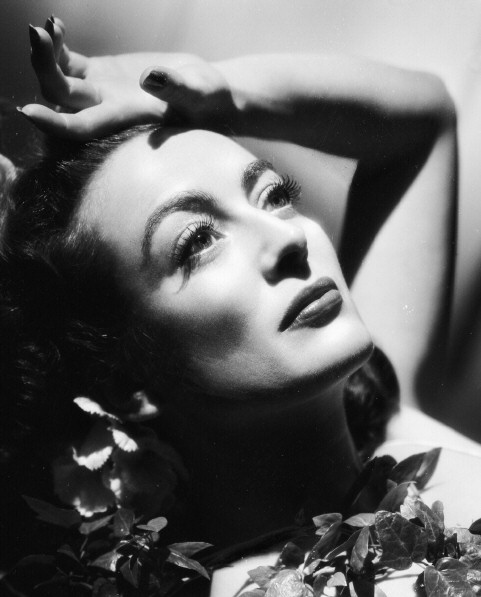 PHOTOS:
1936: At home with dachshunds.
1937: On the set of The Bride Wore Red.
1938:
Backgammon on the set of The Shining Hour.
Candids: At the Cocoanut Grove with Robert Montgomery and Cesar Romero, and preparing for a shoot with Laszlo Willinger.
1939: Publicity for Ice Follies and for The Women.
1941:
On the set of When Ladies Meet.
Iconic publicity by Hurrell, one and two.
1942: Publicity for Reunion in France with costume and sketch by Irene.
---
10 Years of BOE: 2004 - 2014
This website, "The Best of Everything: A Joan Crawford Encyclopedia," debuted on March 23 exactly 10 years ago.
In the months leading up to this day, I've thought long and hard about how to best express what honoring Joan online for the past decade has meant to me. Here's a biographical bit from an initial draft: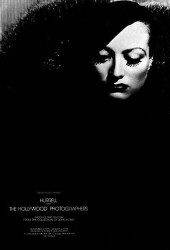 I first became a true fan of hers in '87, when I was 22. When there was no TCM, and just barely any VHS tapes. If I wanted to see any Joan Crawford movies, I either went to my university library and checked one out and then watched it in a tiny library viewing room on a plastic chair, or I "splurged" ($20 on a college kid's non-income was splurging) on renting a video-player to hook up to my 12-inch black-and-white TV. (The only Joan movies then available for rental at Austin video stores: Grand Hotel, Autumn Leaves, Johnny Guitar, Strange Cargo.)
It was also in 1987 that I ordered from a local graphics store a 3' x 4' poster featuring Joan from a Hurrell photography show in Chicago 10 years earlier. I still remember how proud I felt carrying the mounted poster home under my arm on the college shuttle bus, how much I wanted people on the bus to KNOW THIS ABOUT ME: I LOVE JOAN CRAWFORD.
This poster has hung in the living room of every one of the 14 places I've lived since 1987 (except for my 3 years in NYC, where I flew off to live with only a suitcase too small to fit it in). An artwork, a beauty, a symbol, a guardian. Representing everything from Joan's movies that I've watched (and gotten goosebumps from) to her perseverance to, more mundanely, my own perseverance and what has continued to be important to me, and a touchstone, for over a quarter of a century.
But why create this website? And why continue working on it for a decade? What I wrote 10 years ago on the "About" page of this site still very much holds true today:
After participating in various Joan message boards for a couple of years, I realized that people were often posting very helpful and informative info re Joan that was subsequently being forgotten as the later messages scrolled on... And most of the Joan websites available primarily seemed to focus either on the camp aspects of her later career or on her "glory days" from MGM through Warners; or else the webmaster would get bored and discontinue the site on a whim.
Neither the Camp nor the Glamour Girl (nor the, um, "discontinued") approach, I feel, is adequate for a star and woman whose career spanned an incredible 50 years from the Silents through the Television Age and whose various incarnations defy easy categorization. On this site, I don't just want to show pretty pictures from the '30s or make fun of her grand guignol era; instead, I want to show where Joan Crawford came from as well as every step of her journey, including what she had to say about what was going on around her. The woman had a brain and guts and opinions and talent as well as a face, and her longevity as an actress was hardly reliant solely on lucky breaks or pure sex appeal; she worked to get to the pinnacle of her field and subsequently worked to maintain her career and status long beyond what anyone thought tenable.
I'm extremely in awe of both her talent and her business acumen, as well as of her beauty and style, and this site is intended to honor all of these aspects of this astonishing woman and actress, as well as to be a repository for otherwise-scattered information.
Joan Crawford's contributions to film, and to the entertainment world and pop culture in general, have been immense, and her personal story inspiring. I'm proud to be able to make this small contribution in recognition of her talent and legacy.
What I wrote 10 years ago at the conclusion of the Joan biography on this site expands a bit on why she continues to fascinate both me and, perhaps, the rest of the world:
Whatever the path that leads to the discovery of Joan's body of film work, Cukor was right: Joan Crawford will never die. Obviously, celluloid and the VHS and DVD have in themselves already granted immortality to certain films and their stars. And the media certainly have been fascinated by Joan Crawford for the past 80-odd years. But that's either a cold, "officially historical" kind of permanence (in the former case) or an ephemeral, arbitrary focus of the spotlight (in the latter case). Crawford's own immortality has been achieved, and will continue to be achieved, on an individual and personal level, as it has been since her film debut in 1925---every time a viewer has gotten, or will get, a jolt from Dangerous Diana's exuberant Charleston, or Vienna's eyes blazing as she stands atop that staircase, or Lane Bellamy's death-wrestle with Titus Semple, or Myra Hudson's nerve-wracking wait in the closet, or Flaemmchen's freshness and verve, or Helen Wright's lushly gorgeous angst, or Sadie Thompson's indignant anger, or Crystal Allen's bitchy audacity, or Janie Barlow's naive spunk, or Blanche Hudson's masochistic ordeal...
A single initial jolt of emotional recognition, of connection. Followed later, perhaps, by sheer admiration not only for the woman's artistry, but also for her intense struggle for expression and survival in a world that counted her out on numerous occasions.
A bow to a brave, audacious soul. Joan Crawford lives.
She does indeed.
In closing: A huge heart-felt THANK YOU to all of the readers of this site who have taken the time over the past decade to send in their Joan facts, photos, articles, remembrances, and reviews. This site would be a much, much lesser place without all of your contributions. I am deeply grateful for all of your help.
Thanks also to all of the fellow Joan fans that I've met over the years in both New York City (from 2006 to 2010, during my visits to her Ferncliff crypt and at various showings of her movies at the Chelsea, as well as some random sightseeing ventures! Special shout-out to NYC's John for squiring me around town one evening from the Rainbow Room to a Chelsea drag club, and to Jersey's Mike O'Hanlon for driving me out to Ferncliff!) and in San Francisco (2006, at Ann Blyth's hosting of "Mildred Pierce" at the Castro). As I wrote 10 years ago on the "About" page of this site:
Before, my friends had been merely tolerant of my Crawford obsession, but when I got online I discovered that there were other people just like me out there who really looooved her! (It's always a happy day when you find you're no longer "merely tolerated"!
Here's to worldwide Joan Aficionados (aka "Joanuts") -- past, present, and future. May this site continue to honor the Joan Crawford legacy, satisfying long-time fans and gaining converts, for decades to come.
Yours in Joan,
Stephanie Jones
Austin, Texas
March 23, 2014
If you've enjoyed this site for the past 10 years... Please consider donating to help with its upkeep.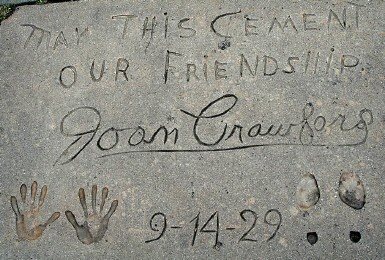 ---