Celebrating 10 Years of BOE: 2004 – 2014
You can donate year-round to this site to help keep Joan's legacy going strong online. Your support is always appreciated.
---

[in last month]
4/18/14
FILMS: Thanks again to Stuart Hoggan for sending in his Joan Crawford movie review -- this time, for Mildred Pierce: "Where this film etches itself in the memory banks is for the moment a rejected box office star went rogue..." (If you have your own review of any Joan film to share on this site, please send it in!)
1930 PHOTOS:
Montana Moon -- With Johnny Mack Brown: On the set and film stills one, two, three, and four.
Our Blushing Brides -- A blonde publicity shot.
---
4/14/14
FILMS: Added a reader review by Stuart Hoggan for 1947's Daisy Kenyon. (If you have your own review of any Joan film to share on this site, please send it in!)
MAGAZINES: Added 16 larger covers to the J-K-L page. (Note: For months now, I've been working my way alphabetically through the Magazine pages, replacing smaller covers with larger ones. If you're browsing through the A-L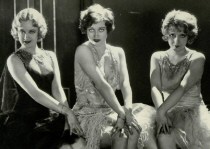 pages and happen to have a larger cover that I haven't found yet, please send it along!)
PHOTOS:
1927: The Unknown -- A film still; and screen shots with Lon Chaney and with Norman Kerry.
1928: Four Walls -- Film still with John Gilbert.
1929: Our Modern Maidens -- Publicity with Josephine Dunn and Anita Page; and a film still with Eddie Nugent.
---
4/12/14

PHOTOS:
1926:
Screen shots from Tramp, Tramp, Tramp, one and two.
A publicity shot in "hillbilly" garb.
1927:
The Unknown -- Candids on the set, one and two. And screen shots, one and two.
A publicity photo autographed to longtime early penpal Dan Mahony.
---
4/07/14
EVENTS: Bay Area residents are in for a couple of big-screen treats this spring: Mildred Pierce at Oakland's Paramount Theatre on April 25, and The Unknown at San Francisco's Castro Theatre on May 6. (Thanks to Brian for the info!)
LETTERS:
1964 to Joseph La Rose with thanks (including handwritten note) for his get-well wishes.
1968 to friend Kay Lawrence.
1970 to longtime fans, with thanks for their loyalty and gratitude for their enjoying "The Virginian."
1977 to a fan with thanks for his birthday wishes.
PHOTOS:
1967: Color candid outside her NYC apartment.
1968:
Berserk! -- Candid on the set.
Screen shot from "The Lucy Show."
Color candid in her car, outside NYC's Royal Theatre.
1970: A candid and a publicity still from "The Virginian."
And many thanks to James-Paul Amato for sharing this Joan-by-Hurrell window currently displayed at NYC's Paul Stuart store on Madison and 45th! Beautiful!
---
4/05/14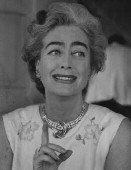 PHOTOS:
1963: In Miami Beach for a Lion's Club convention: one, two, three, and four.
1964:
A candid at the Memphis airport.
Strait-Jacket --
Candid on the set with cake and ax. A close-up. And screen shots one, two, three, four, and five.
Hush...Hush, Sweet Charlotte --
A bigger, better replacement: on the set with the Louisiana governor's kids.
And thanks to Matt Treadaway for this candid with puppy, plus these wardrobe test shots one, two, and three.
---
4/03/14
LINKS: Roland Hui's "Joan Crawford: Her Life and Career" site was one of the earliest Joan sites on the web. The original GeoCities provider became defunct, but his site is now back with a different host. Enjoy!
PHOTOS:
1956: Candid with husband Al Steele.
1957: Arriving in Naples with Anna Magnani. A candid in Minneapolis.
1959: Promo candid for GE Theater's "And One Was Loyal." (Shot in 1958, but on '59 page since the show aired then, January 4.)
1960: Joanie Guitar in Buenos Aires. A circa-1960 tropical candid.
1961: Judge publicity for the Miss America pageant.
1962: A film still from What Ever Happened to Baby Jane?
---
3/30/14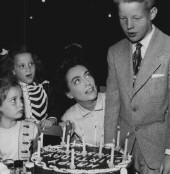 PHOTOS:
1951: On the set of Goodbye, My Fancy with Tony Curtis.
1952: Film still from Sudden Fear.
1953: Bigger, better replacements: On the set of Torch Song with Cliquot, and on the town with Pier Angeli and Kirk Douglas.
1954:
On the set of Johnny Guitar with Christopher and The Twins, one and two.
A publicity shot and a still from GE Theater's "Road to Edinburgh."
---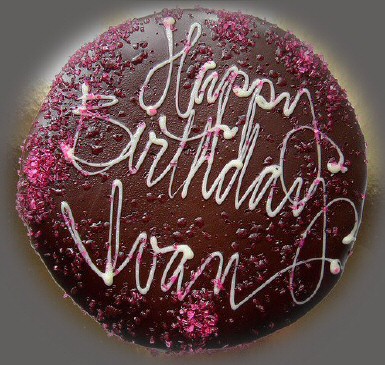 March 23, 2014
Whether it's your 110th, 109th, or 108th...
This is also your 89th year of non-stop public attention / scrutiny. The world has not stopped talking about you since your arrival in Los Angeles at the beginning of the New Year, 1925. You are truly timeless. (Beyond your wildest kid dreams, huh?)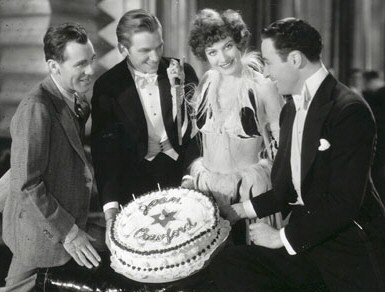 ---
And there's another Joan-related anniversary today: This website, "The Best of Everything: A Joan Crawford Encyclopedia," debuted on this day exactly 10 years ago.
In the months leading up to this day, I've thought long and hard about how to best express what honoring Joan online for the past decade has meant to me. Here's a biographical bit from an initial draft: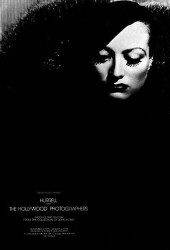 I first became a true fan of hers in '87, when I was 22. When there was no TCM, and just barely any VHS tapes. If I wanted to see any Joan Crawford movies, I either went to my university library and checked one out and then watched it in a tiny library viewing room on a plastic chair, or I "splurged" ($20 on a college kid's non-income was splurging) on renting a video-player to hook up to my 12-inch black-and-white TV. (The only Joan movies then available for rental at Austin video stores: Grand Hotel, Autumn Leaves, Johnny Guitar, Strange Cargo.)
It was also in 1987 that I ordered from a local graphics store a 3' x 4' poster featuring Joan from a Hurrell photography show in Chicago 10 years earlier. I still remember how proud I felt carrying the mounted poster home under my arm on the college shuttle bus, how much I wanted people on the bus to KNOW THIS ABOUT ME: I LOVE JOAN CRAWFORD.
This poster has hung in the living room of every one of the 14 places I've lived since 1987 (except for my 3 years in NYC, where I flew off to live with only a suitcase too small to fit it in). An artwork, a beauty, a symbol, a guardian. Representing everything from Joan's movies that I've watched (and gotten goosebumps from) to her perseverance to, more mundanely, my own perseverance and what has continued to be important to me, and a touchstone, for over a quarter of a century.
But why create this website? And why continue working on it for a decade? What I wrote 10 years ago on the "About" page of this site still very much holds true today:
After participating in various Joan message boards for a couple of years, I realized that people were often posting very helpful and informative info re Joan that was subsequently being forgotten as the later messages scrolled on... And most of the Joan websites available primarily seemed to focus either on the camp aspects of her later career or on her "glory days" from MGM through Warners; or else the webmaster would get bored and discontinue the site on a whim.
Neither the Camp nor the Glamour Girl (nor the, um, "discontinued") approach, I feel, is adequate for a star and woman whose career spanned an incredible 50 years from the Silents through the Television Age and whose various incarnations defy easy categorization. On this site, I don't just want to show pretty pictures from the '30s or make fun of her grand guignol era; instead, I want to show where Joan Crawford came from as well as every step of her journey, including what she had to say about what was going on around her. The woman had a brain and guts and opinions and talent as well as a face, and her longevity as an actress was hardly reliant solely on lucky breaks or pure sex appeal; she worked to get to the pinnacle of her field and subsequently worked to maintain her career and status long beyond what anyone thought tenable.
I'm extremely in awe of both her talent and her business acumen, as well as of her beauty and style, and this site is intended to honor all of these aspects of this astonishing woman and actress, as well as to be a repository for otherwise-scattered information.
Joan Crawford's contributions to film, and to the entertainment world and pop culture in general, have been immense, and her personal story inspiring. I'm proud to be able to make this small contribution in recognition of her talent and legacy.
What I wrote 10 years ago at the conclusion of the Joan biography on this site expands a bit on why she continues to fascinate both me and, perhaps, the rest of the world:
Whatever the path that leads to the discovery of Joan's body of film work, Cukor was right: Joan Crawford will never die. Obviously, celluloid and the VHS and DVD have in themselves already granted immortality to certain films and their stars. And the media certainly have been fascinated by Joan Crawford for the past 80-odd years. But that's either a cold, "officially historical" kind of permanence (in the former case) or an ephemeral, arbitrary focus of the spotlight (in the latter case). Crawford's own immortality has been achieved, and will continue to be achieved, on an individual and personal level, as it has been since her film debut in 1925---every time a viewer has gotten, or will get, a jolt from Dangerous Diana's exuberant Charleston, or Vienna's eyes blazing as she stands atop that staircase, or Lane Bellamy's death-wrestle with Titus Semple, or Myra Hudson's nerve-wracking wait in the closet, or Flaemmchen's freshness and verve, or Helen Wright's lushly gorgeous angst, or Sadie Thompson's indignant anger, or Crystal Allen's bitchy audacity, or Janie Barlow's naive spunk, or Blanche Hudson's masochistic ordeal...
A single initial jolt of emotional recognition, of connection. Followed later, perhaps, by sheer admiration not only for the woman's artistry, but also for her intense struggle for expression and survival in a world that counted her out on numerous occasions.
A bow to a brave, audacious soul. Joan Crawford lives.
She does indeed.
In closing: A huge heart-felt THANK YOU to all of the readers of this site who have taken the time over the past decade to send in their Joan facts, photos, articles, remembrances, and reviews. This site would be a much, much lesser place without all of your contributions. I am deeply grateful for all of your help.
Thanks also to all of the fellow Joan fans that I've met over the years in both New York City (from 2006 to 2010, during my visits to her Ferncliff crypt and at various showings of her movies at the Chelsea, as well as some random sightseeing ventures! Special shout-out to NYC's John for squiring me around town one evening from the Rainbow Room to a Chelsea drag club, and to Jersey's Mike O'Hanlon for driving me out to Ferncliff!) and in San Francisco (2006, at Ann Blyth's hosting of "Mildred Pierce" at the Castro). As I wrote 10 years ago on the "About" page of this site:
Before, my friends had been merely tolerant of my Crawford obsession, but when I got online I discovered that there were other people just like me out there who really looooved her! (It's always a happy day when you find you're no longer "merely tolerated"!
Here's to worldwide Joan Aficionados (aka "Joanuts") -- past, present, and future. May this site continue to honor the Joan Crawford legacy, satisfying long-time fans and gaining converts, for decades to come.
Yours in Joan,
Stephanie Jones
Austin, Texas
March 23, 2014
If you've enjoyed this site for the past 10 years... Please consider donating to help with its upkeep.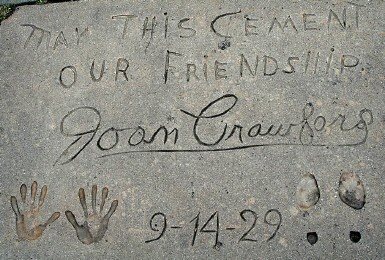 ---
3/20/14
1949: Publicity shots by Bert Six, modeling coats: one, two, and three. And a smokin' screen shot from Flamingo Road.
1950:
The Damned Don't Cry -- Pool candids on the set one and two. Publicity one, two, and three (thanks to John for the last one in glorious color). Film stills one and two.
Publicity at home with The Twins.
1951: Promo shots for Kozy Pup and Christmas Seals, and a general publicity shot.

---
3/16/14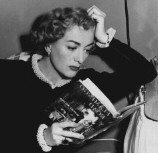 BOOKS: 4 paperback covers (3 US, 1 German) for Robert Wilder's 1942 novel Flamingo Road. (Also added a new photo to the top of the Books Related to Joan Movies page.)
FILMS: An Italian poster and a UK trade ad for Flamingo Road.
PHOTOS:
1949: Flamingo Road -- On the set reading the novel, publicity with David Brian, a screen shot shooting Titus, and a film still.