Modern Screen (US)
Jan. 1931. Vol. 1, No. 2.
An astrologer predicts Joan's future.
Click on any Modern Screen cover to view larger versions of all.
Modern Screen (US)
February 1932.
"To Tell You the Truth -- In Love With Another Man?
Divorcing Doug Jr.? Joan answers the gossip-mongers
Also on this page: "One Day Left to Live"
Modern Screen (US)
October 1933.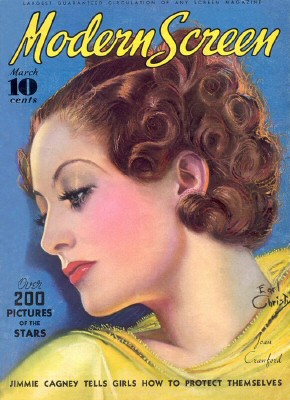 Other known issues of Modern Screen featuring Joan:
May 1931. Vol. 1, No. 6. "Portraits: Joan Crawford"
Oct. 1931. "Joan Crawford's Wardrobe"
Nov. 1932. Vol. 4, No. 6.
May 1933. "The Separation of Joan and Doug."
June 1933.
July 1935.
June 1936. "The Private Life of Joan and Tone."
Oct. 1936.
Jan. 1940. "The New Joan Crawford." (2-pgs, with photos)
Feb. 1940. Strange Cargo photos
August 1941.
March 1943.
May 1946.
August 1946.
May 1947. "Just Because She's Joan"
May 1948. "Closeup: Last of the Fiery Hollywood Queens"
Nov. 1948. "Life Can Be Beautiful"
June 1950.
August 1950. "I Was Afraid to Be Happy."
Nov. 1950.
Dec. 1950.
July 1951. "No More Husbands for Joan." (2 pgs, with photos)
Oct. 1951.
Nov. 1951. "What Men Have Done to Me"
Dec. 1952.
April 1953. "Mistakes That Made Her Famous"
by John Maynard.
July 1953. "Joan and Marilyn Talk to Louella Parsons"
August 1955. Vol. 49, No. 9. "Someone to Watch Over Me."
Sept. 1955. "Clash of the Steeles."
June 1957.
Feb. 1958.
March 1960.
Sept. 1972.
Feb. 1973. "Joan Crawford: TheTales Her House Tells."
(At home in her NYC apt., 13 photos)
August 1977. Vol. 71, No. 8. "My Memories of Joan" and
"I Remember Joan."