Screen Queen
Turner Classic Movies Delivers a Fresh Look into the
Life of Smoldering Hollywood Icon Joan Crawford
by Earl Dittman
Originally appeared in Satellite Direct, August 2002
---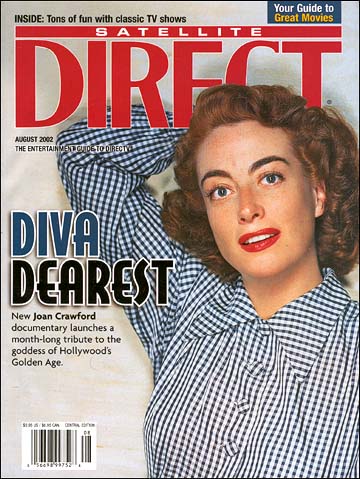 Unlike Bette Davis, Greta Garbo or many of the other iconic celluloid divas that dominated the silver screen during the Golden Age of Hollywood, Joan Crawford hasn't always been remembered for her stunning, immense body of work. For those unfamiliar with her contribution to classic films such as Mildred Pierce (which garnered her only Academy Award), The Women and Grand Hotel, Crawford is probably best known for her latter-day performances in campy horror films like Trog or the crazed mom who allegedly screamed "No more wire hangers!" at her adopted daughter (an incident documented in Christina Crawford's book, Mommie Dearest, and immortalized by actress Faye Dunaway in the outrageous 1981 biopic of the same name).
However, documentary filmmaker Peter Fitzgerald has made it his personal mission to remind movie-lovers that while Crawford may have experienced a rocky personal life, on the big screen, she reigned supreme. It's a fact he clearly brings to light in his 90-minute documentary Joan Crawford: The Ultimate Movie Star, a project specially commissioned by Turner Classic Movies to launch the cable channel's month-long, 41-film tribute to the cinematic idol.
"I felt like it was time to finally pay honor to one of Hollywood's greatest stars," Fitzgerald explains. "Turner Classic Movies was so impressed with the documentary, they decided to devote the whole month of August to showcasing Crawford's most memorable films. That makes me happy, because I hope those films and The Ultimate Movie Star will not only satisfy her long-time followers but bring her a whole new legion of fans."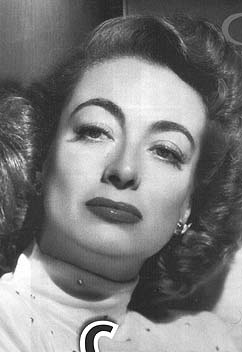 Narrated by Anjelica Huston, The Ultimate Movie Star paints a vivid and compelling portrait of Crawford's rise from obscure MGM contract player Lucille Le Sueur to one of the most loved leading ladies of the 20th century. In telling her extraordinary story, Fitzgerald combines excerpts from many of her most famous films, rare footage, photographs and vintage newsreels with the often fond memories of her closest friends, co-workers, lovers and family members, all recently interviewed exclusively for the documentary. Featuring the recollections of actor Cliff Robertson, biographer Bob Thomas, director Vincent Sherman, co-star Betsy Sherman, columnist Liz Smith and adopted daughter Christina Crawford, Joan Crawford: The Ultimate Movie Star provides viewers with a fascinating glimpse inside both Crawford's public and very private personas.
"I didn't want to do a puff piece and ignore the more controversial aspects of Joan's life -- I wanted to present the whole story," Fitzgerald admits. "That's why I wanted Christina to participate. I thought the best way to go about this piece -- since Mommie Dearest casts such a dark cloud over the Crawford image -- was to include it. I wanted to let the audience decide what was true and what wasn't."
For those who worked with the actress, though, the only truth one really needs to know about Crawford is her dedication to her craft.
"Joan was a perfectionist and demanded perfection from everyone around her," recalls Betsy Palmer, who starred with Crawford in the 1955 melodrama Queen Bee. "She was supposed to be a bitch, but she was the nicest person you could ever meet. It's just that she didn't have time for people who weren't professional. She wanted things to be perfect. That's what made her a great actress."
According to Fitzgerald, The Ultimate Movie Star is not only a celebration of Crawford's indisputable talent and how it's influenced generations of performers, it's a chance to see a side of the legendary actress few have ever witnessed before."
"Part of Crawford's greatness comes from the fact that she was chameleon and a great promoter of herself," he says. "Entertainers like Madonna owe a great debt to Crawford in terms of reinventing one's self for public consumption. Film stars are American royalty, and Joan Crawford is definitely the first queen of Hollywood. But, I really want people to see the woman behind the legend and why the public was so in love with her. It's an incredible story, and I'm just thankful I was the one given the chance to tell it."

Joan: the ultimate trivia
Although she appears statuesque in most of her films, Crawford stood a mere 5' 4"


Crawford and Bette Davis were notorious arch-enemies. The source of their hatred for each other? Davis once said she couldn't stand anyone "who slept with every male star at MGM except Lassie." While Crawford claimed she never disliked Bette, she did say, "I don't see how she built a career out of a set of mannerisms, instead of real acting ability."


Director Steven Spielberg's first professional assignment was a segment of Night Gallery, starring Crawford. "I was 21 years old," he remembers. "The first words out of her mouth to me were, 'My God, people will think you're my son!' " Even though she tried to have him replaced, the two worked well together. "She treated me more professionally than most of the young actors I worked with in subsequent years," he says.


Crawford retired from acting in 1974 at the age of 66 for reportedly being shocked at the way she looked in a current photograph.


According to Crawford, an actress needed only two things to make it in Hollywood -- "Talent, of course, and a good hairdresser."