Joan Crawford: Mrs. Tone at Home
Originally appeared in Life, March 1, 1937. (Original captions accompany the photos. Five original article pages follow this box.)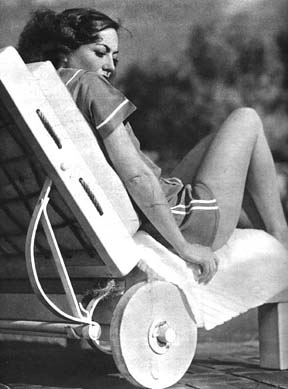 By the almighty standard of the box-office, the young lady whose signature appears at left and whose person appears on the beach chair above is the first queen of the movies. Last year she was No. 7 on the list of box-office champions. Those who ranked above her were four men (Clark Gable, Robert Taylor, Joe E. Brown, Dick Powell), one child (Shirley Temple) and one team (Astaire & Rogers). Before Shirley Temple was born, Miss Crawford was drawing a star's salary as a sexy prototype of the then flaming Younger Generation. Now she makes $241,000 a year as a sophisticated comedienne.
It is an axiom in Hollywood that movie favorites are usually created by women. Joan Crawford's special public is predominantly female, predominantly low-brow. A former shopgirl herself, she has risen to stardom as the Shopgirl's Dream.
Lucille Le Sueur Climbs to a Pinnacle of Movie Fame as Joan Crawford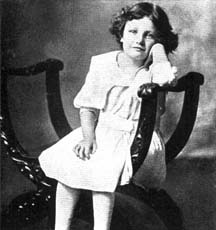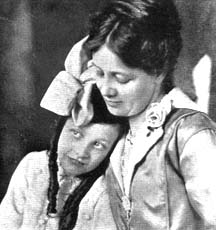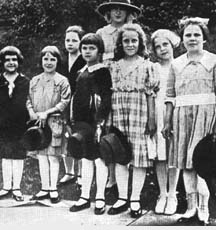 LEFT: 1912: Joan Crawford is a chubby 6-year-old christened Lucille Le Sueur but known as Billie Cassin.
MIDDLE: 1915: At 9 she has corkscrews. Her mother, divorced from her father, is married to a Mr. Cassin.
RIGHT: 1918: She spends this year at a convent school in Kansas City. Joan is the tall girl in the rear.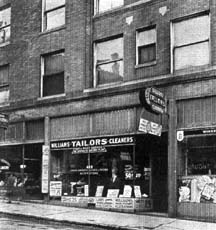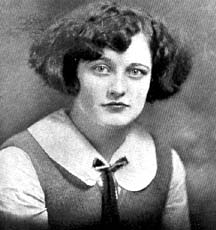 LEFT: 1922: For a while she lives frugally with her mother in this building at No. 403 East Ninth St., Kansas City.
RIGHT: 1923: This is how she looks when she enters Stephens College at Columbia, MO., stays six months.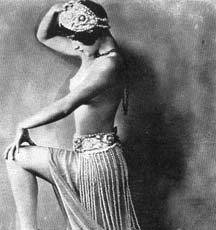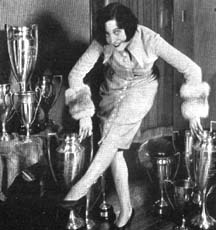 LEFT: 1924: As Lucille Le Sueur she gets work in a New York chorus. This is her earliest publicity picture.
MIDDLE: 1925: Plumper now, she goes to Hollywood, spends her first year posing for M-G-M publicity like this.
RIGHT: 1926: She becomes the "Charleston Queen," wins many cups in dancing contests, loses many pounds.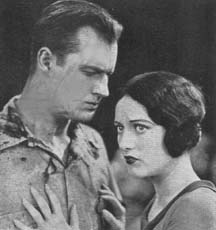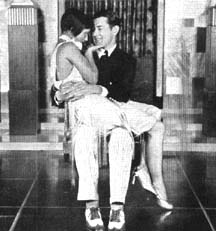 LEFT: 1927: Playing opposite Francis X. Bushman in The Understanding Heart, she "registers suspicion."
MIDDLE: 1928: She poses for a publicity picture illustrating "the latest place to keep your powder and lipstick."
RIGHT: 1928: She reaches stardom as ideal Jazz Age girl. Above, she is fondling the chin of Johnny Mack Brown.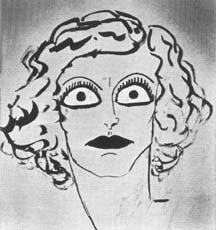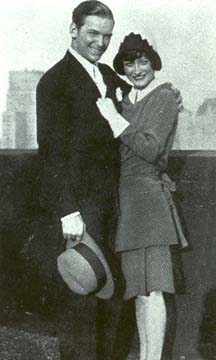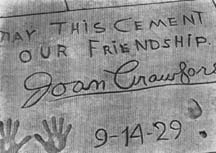 LEFT: 1929: This is how she looks to her artistic first husband Douglas Fairbanks Jr., before the marriage.
MIDDLE: 1929: She marries Douglas Fairbanks Jr. to the delight of her fans.
RIGHT: 1929: Only top-rank stars have their hand and footprints in cement at Grauman's Chinese Theatre, Hollywood.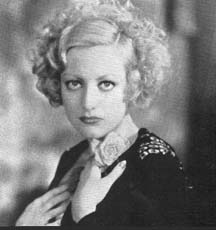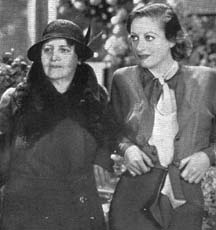 LEFT: 1931: She turns blonde for This Modern Age. But her fans disapprove and she goes back to brunette.
RIGHT: 1932: Joan's mother, Mrs. Cassin, visits her famous daughter on the set of Grand Hotel.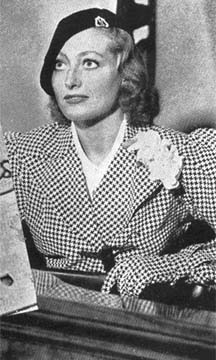 LEFT: 1933: She divorces Fairbanks charging mental cruelty. Note the freckles.
RIGHT: 1936: Who should turn up but her wavy-haired brother, Hal Le Sueur, to work in movies as a bit player.
JOAN CRAWFORD'S success story is among the most impressive in Hollywood. She was born Lucille Le Sueur in San Antonio, Tex. on March 23, 1906. She spent her youth in Kansas and Oklahoma with her mother and her stepfather, a Mr. Cassin. At school and college she worked for her board and room. When she was 17 her dancing got her a job in a chorus, then a chance in the movies. Joan quickly made herself the perfect Jazz Age girl. Her Charleston was hotter, her gowns tighter than any other's in Hollywood. Stardom came in 1928 with Our Dancing Daughters. In 1929 occurred her marriage to Douglas Fairbanks Jr. This "perfect marriage" broke up in 1933, by which time the hotcha Joan was fast disappearing. Miss Crawford, having reached the pinnacle of movie fame, is now conquering new fields. For a glimpse of them, turn the page.
Joan Crawford Tone at Home With Three Dogs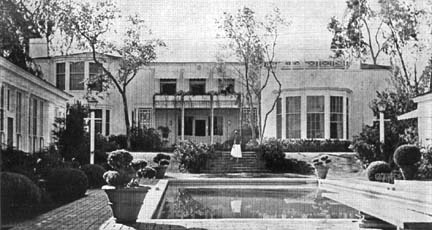 The Tone home is built to face the swimming pool. The wing at left is a private theatre where the Tones entertain guests with current movies. The roof at right is a sun deck. Mrs. Tone is on the steps.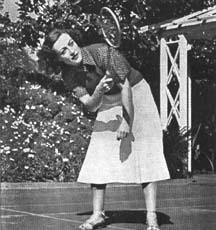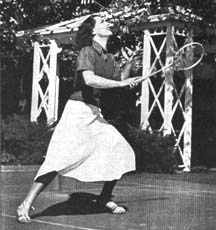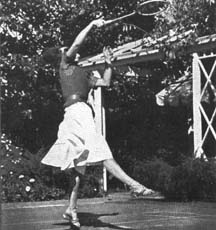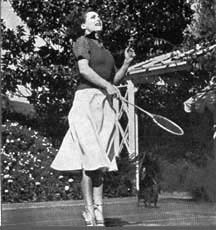 Squabble is Mrs. Tone's favorite game of the moment. It resembles badminton but is played on a hard court and the "birds" have rubber ends.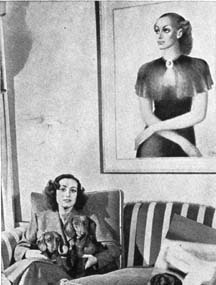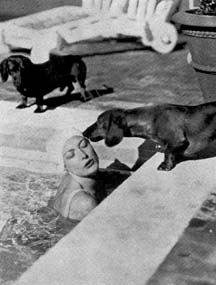 LEFT: An Egyptian Goddess is what Artist Edward Biberman said he saw in Mrs. Tone. She sits under his painting with two dogs.
RIGHT: A kiss from Bübchen rewards Mrs. Tone at the end of her swim in the pool. Baby watches the scene with distaste.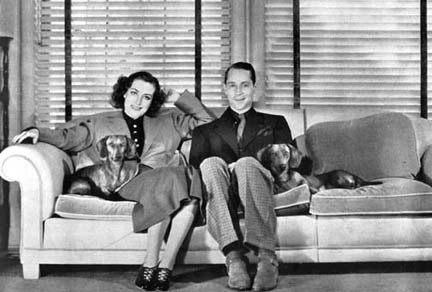 The Tone family consists of Joan, Franchot and three dachshunds. In this picture Joan has Baby, her dog, and Franchot has Bübchen, one of his own. Franchot's other, Schmeltzy, got away.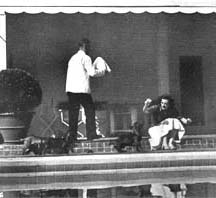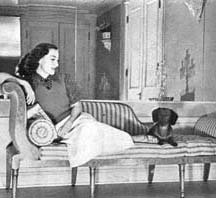 LEFT: Mrs. Tone plays with the dogs beside the pool, while a servant carries a tray into the house. Servants call her "Madam," "Mrs. Tone" or, when excited, "Miss Crawford."
RIGHT: Mrs. Tone and Baby sit on the settee in the reception hall. The Tone home is decorated in modified style with mirrors, white carpets, cork lighting fixtures.
JOAN CRAWFORD is now a lady of culture and poise. In 1935 she married Franchot Tone, actor and socialite son of the president of Carborundum Co. The Tones live swankly at Brentwood Hills, near Hollywood, with three dachshunds and a corps of servants. Their Sunday afternoon musicals are a prime social event in the movie colony. Mrs. Tone goes in for books, art, music. For three years she has been taking singing lessons, supposedly with grand opera ambitions. Meanwhile her movie career shows no sign of faltering.