Joan Crawford, our cover girl -- and why
The girl who won an Oscar when she was considered
through in pictures has her own way of helping other
actresses win theirs
by Sidney Skolsky, FAMOUS MOVIE REPORTER
Originally appeared in Motion Picture, February 1948
---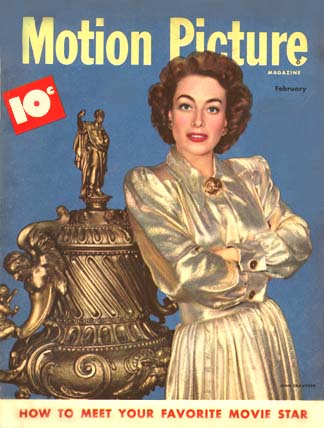 Joan Crawford is a movie fan's idea of a movie actress.
This is why she has been given the distinction of being MOTION PICTURE's Cover Girl of the month.
She is a movie story all by herself, having started in pictures and gained recognition when such actresses as Corinne Griffith, Clara Bow and Gloria Swanson, to mention a few, were the names on the marquees featuring silent pictures. She is now a contemporary of Jennifer Jones, Betty Grable and Lana Turner.
She even went so far, when considered through in pictures, as to win that coveted picture award, the Oscar.
This, too, is why she has been given the honor of being MOTION PICTURE's Cover Girl of the month.
There is quite a story and plenty of motion picture history in the yarn of a movie actress who is always acting the part.
Her real name is Billie Cassin. She hails from San Antonio, Tex., and the date is March 23. She took the name of Lucille Le Sueur -- quite fancy -- for professional reasons. Later she was given her present name as the result of a movie fan magazine contest. She has fan clubs and pays strict attention to them. She is delighted by the fact that Van Johnson, who now has his own admirers, is still a member of the Joan Crawford Fan Club.
She is probably the only actress in pictures who acts like a movie actress off the screen. This is a holdover from her early career when an actress always had to be an actress to her public. She has never been caught with her make-up off or her slacks on by the fans. She is always the actress for her public.
She believed it was daring and chic to use practically no make-up for certain scenes in Possessed. She knew how to do it and keep in style. Her latest picture is Daisy Kenyon, and next will be Until Proven Guilty. She has no difficulty in getting jobs.
She is 5 feet 4 inches tall, weighs 115 pounds, has red brown hair, blue eyes and plenty of freckles. She is continually changing the shape of her eyebrows and lips. Regardless, she always looks like herself.
Joan's on-again-off-again romance with Greg Bautzer is on again, but may be off again
She always has music on her sets when working, playing both classical and popular records. This is another holdover from the picture-making days when a violinist would play "mood music" on the set so that she could emote properly. Bing Crosby is her favorite singer.
She generally chews gum when waiting to play a scene. She parks it when she goes to emote and resumes with the same piece upon returning. She has been told by a director to remove her chewing gum before playing a love scene.
She is well-liked on the set and is very friendly. She calls everyone "honey".
She knits constantly, especially on the set. Her favorite pastime is making sweaters and socks for her friends, whether they need them or not. She even knits at the theater. She puts up a good front herself in a sweater.
She has a secretary named Larsen who watches over the appointment book and serves as an efficient buffer. Her hairdresser, Gertrude, has been with her for years, and Joan is loyal and sentimental.
She is an extreme sentimentalist. She keeps letters tied with ribbons in a cedar-lined closet along with her fur coats. These letters are from her best friends. She has saved practically every card, letter, note, telegram from her admirers and ex-husbands.
She has been married to Douglas Fairbanks Jr., Franchot Tone and Phillip Terry. She is rather friendly with her ex-husbands, more so with the others than Phillip Terry. Her current beau appears to be Greg Bautzer, the lawyer, and they put on quite a show when they were dancing at the Mocambo or Ciro's. She used to win cups for doing the Charleston.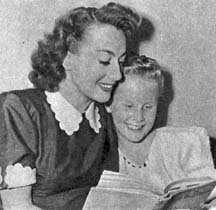 On the set of Daisy Kenyon, Joan reads to her adopted daughter, Christina, who is 7. Christopher, her other adopted child, is 3 1/2.
She has two adopted children, Christina, aged 7, and Christopher, 3 1/2. She is a devoted mother.
She resides in a large house in Brentwood. Although she's all that's lush and plush about Hollywood, she's not afraid of getting dishpan hands. She can, and has done, her own housework -- sweeping, dusting, stacking firewood, cooking and mopping.
She is always well-dressed, even for a small audience. Her clothes are designed by Adrian, her hats by Florell. She has a closet for suits alone and another for furs, including jackets, coats and stoles made of ermine, mink, beaver, Persian lamb and every variety of fox. She admits, "When I see those, I know I'm a movie star."
She wears brilliant colors brilliantly, considers green her favorite. She is very fond of perfumes and is always changing her brand.
She is an avid movie fan, attending two and three neighborhood theaters a week and showing double bills Sunday nights to friends in her own garden projection room. In addition to a double feature, she rounds out the program with a newsreel, a cartoon and a short subject. As a gag, she once gave away dishes. The favorite actress of this movie actress is Greta Garbo.
She likes to eat and her favorite dishes are salads, cereals and rhubarb. She lingers over coffee, goes from one cigarette to another. She has a desire to eat everything with a spoon.
She has been and is an ambitious person. She is disciplined to hard work. There is nothing she considers too difficult for her. She will take any kind of lessons.
She studies languages and music, and always tries to read what she terms "the best in literature." She is constantly striving for self-improvement.
She seldom buys a single copy of a book. If she likes a book, she purchases many copies of it and gives them to her friends. She became quite excited about the book, An Actor Prepares. She met Olivia de Havilland at a night club, told her about the book and sent her a copy to aid her screen career. It was later that Olivia won an Oscar. Joan was pleased.
She never forgets anyone who has betrayed her confidence. Although she may forgive, she never trusts that person again. She calls herself Elephant Annie -- because she never forgets.
She would like to do a play but is frightened of the theater. She is also scared of the microphone and makes very few radio appearances. When she memorizes a part for a movie she is what is known as a "photographic study." She reads a page of dialogue, which is to be filmed, several times and retains a picture of it. This is the best she can do. That is why she is afraid of the theater, where she must know the entire play for a performance.
She takes at least four showers a day, starting when she arises in the morning. After breakfast she takes another shower. Then another before dinner. And still another before going to bed. This is the routine. But if she has nothing to do, she takes another shower.
She is a gracious person and hostess. Once, at a party at her house, Roland Young and Sir Cedric Hardwicke were approached by the butler and asked if they wished anything. These actors decided to have some fun. Roland Young said, "I would like a mink coat. It's a bit chilly in the garden." Sir Cedric said, "And I will have an old silver fox." They were both given what they desired. She can go along with a gag.
She is proud of the work she did in Daisy Kenyon and found it a stimulating change from her rather grim roles in Humoresque and Possessed. She particularly liked the idea of winding up on a happy note instead of walking into the ocean or finding herself in a mental institution.
She sleeps on a sleeping porch in a huge four-poster bed. She usually reads in bed, sleeps in a short nightgown with long sleeves.
She is a movie actress always, and she wants only to be a movie actress.
---
PICTURE PARADE by Sara Corpening
DAISY KENYON

This is one of those pictures which can only be described by that stock term, "a woman's picture." Being a woman myself, I enjoyed it and believe the majority of movie-goers will also. The plot, slightly on the side of soap opera, concerns a successful young magazine illustrator in New York who is in love with a married man. Joan Crawford is the girl and Dana Andrews is the man, an intriguing heel who believes he can have his cake and eat it too, and does until wholesome Henry Fonda comes along. That sounds pretty old hat, and it is, but the principals are so good that you can almost believe it. Fonda in particular scores though the character he portrays -- a returning serviceman with quirks -- isn't clearly explained. A few scenes are highly reminiscent of Joan in Possessed, notably the one in which she is imagining she hears telephones ringing, but the picture is slick and enjoyable. Others are Ruth Warrick, Connie Marshall, Peggy Ann Garner --
20th Century Fox
.....
AAA (Excellent)