The Best of G
---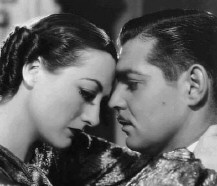 Gable, Clark. (2/1/01 - 11/16/60) The "King of Hollywood," with whom Joan co-starred in 8 films (he was her second-most frequent co-star, after Gwen Lee): Dance, Fools, Dance ('31), Laughing Sinners ('31), Possessed ('31), Dancing Lady ('33), Chained ('34), Forsaking All Others ('34), Love on the Run ('36), and Strange Cargo ('40).
The two had an on-again/off-again affair between 1931 and his death in 1960. MGM publicist James Merrick said of their relations:
I don't think sex was the main attraction, but they probably did all right in that department. Joan was an outlet for Clark; he could talk about his problems and she'd listen and offer the right comments and usually the right advice. Not that she was one of the boys, but outside of Carole [Lombard] she was the only person who really got through to him. A lot of us thought they'd marry, and I think they came close a couple of times, but it's probably a good thing they didn't. It wouldn't have worked, any more than her other marriages worked, because she was stronger than he was, and Clark knew he had an image to protect. The only time he made any detrimental comment on their relationship was when he told me that "Joan swings more balls than I do." (CWJC)
Said Joan in CWJC: Clark and I were both from middle-America, both peasants by nature, not too well-educated, and so frightened and insecure we felt sort of safe and home again when we could get together. We both had a built-in bullshit alarm system, and we were surrounded by the stuff, but the only times we could really talk about it, and laugh at what went on, was when we were together...We simply gave each other courage... Clark was a wonderful man. Very simple, actually, pretty much the way he's been painted. He was more of a womanizer than the studio wanted to admit, but any relationship he entered into was honest--no false hopes, no bullshit. He outgrew his first two wives and he felt terribly sorry for the breakups. Aside from Carole and, for different periods, me, his hunting and fishing and drinking and out-with-the-boys flings meant more to him than women. And no matter how offhand he seemed about it, his career meant more than anything else. He always worried about not having studied more, about being a personality, not an actor. This was silly, because he was a damned good actor, and it wasn't his fault that his looks and his personality dominated the screen the way they did... I still wonder what would have happened if we'd married, but I'm glad we didn't. What we had between us was so special...when he went a part of me did too, and as much as I loved Alfred [Steele, her last husband], that part was never revived.
---
---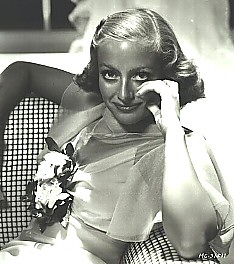 Gardenias. In the 1930s, Joan made it known that this was her favorite flower, mentioning it in interviews and wearing it conspicuously on numerous occasions.
In the 1972 book The Image Makers, Joan was quoted as saying 
about this period:
I loved gardenias. I wore gardenias everywhere. I had great bowls 
of gardenias all over my house. But unfortunately I'd have to throw
them away about an hour after I'd put them on. They just turned 
brown. Nothing you can do about it. I just have too much body heat. 
(The association between Joan and gardenias was strong enough that decades later, in the 1971 grand guignol film What's the Matter with Helen?, Debbie Reynolds' character receives the flower from an admirer and exclaims, "Oh, gardenias! Joan Crawford's favorite!" Also, check out Joan's 1956 movie Autumn Leaves to see a vendor selling gardenias outside a movie theater.)
Thanks to James for the book excerpt and Helen quote and to Jon for the Autumn Leaves reference.
---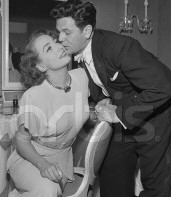 Garfield, John. (3/4/13 - 5/21/52) Garfield's brief 13-year film career was cut short when he died of a heart attack at the age of 39. The year before his death, he'd been blacklisted for his left-wing sympathies and had refused to testify before the House Un-American Activities Committee. Perhaps best known for his roles in 1946's The Postman Always Rings Twice and 1947's Body and Soul, he also co-starred with Joan as her violinist protege in 1946's Humoresque. IMDb info.
---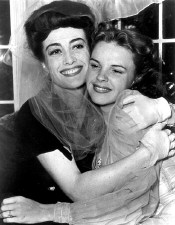 Garland, Judy. (6/10/22 - 6/22/69) Joan's fellow MGM star, and a guest at her home on several occasions. Said Joan in CWJC:
...over the years I've heard and read so many stories about the way Judy Garland was so badly treated at Metro she ended up a mess. I did not know her well, but after watching her in action a few times I didn't want to know her well. I think her problems were caused by the fact that she was a spoiled, indulgent, selfish brat--plus a stage mother who had to be something of a monster, and a few husbands whose egos absolutely dominated hers. There were times when I felt sorry for Judy, but there were more times when I thought, "For Christ's sake, get off your ass!" ...[but] when she put her mind to it, she was good. And I mean damned good. Even in her silly pictures she came off.
---
Garson, Greer. MGM star, up for an Oscar for The Valley of Decision the same year (1945) that Joan won for Mildred Pierce. Garson was part of the "British Invasion" of Hollywood after WWII started, and Joan saw her as a rival for good parts at MGM. (CWJC) The two co-starred in '41's When Ladies Meet.
---
---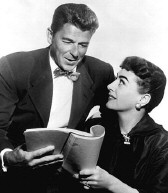 General Electric Theater. Joan made 3 appearances on this CBS program hosted by Ronald Reagan: "Road to Edinburgh" (10/31/54), "Strange Witness" (3/23/58), "And One Was Loyal" (1/4/59).
---
Gibson, Mel. In the wake of Passion of the Christ, said the 2/15/04 New York Times: Eyes often misted over with anguish and sorrow, Mr. Gibson has been martyred on screen more often and more photogenically than anyone since Joan Crawford. It's likely that his appetite for roles with a high pain quotient stemmed at least in part from a slight sense of embarrassment over his own astonishing good looks.
---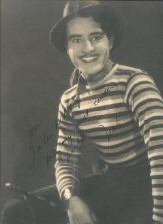 Gilbert, John. (7/10/1899 - 1/9/1936) Born John Cecil Pringle, the hard-drinking Gilbert was a huge, ultimately tragic, silent star, best known for his MGM film pairings (and off-screen romance) with Greta Garbo. He appeared with Joan in Twelve Miles Out (1927), Four Walls (1928), and The Hollywood Revue of 1929.
A crew member on the set of Four Walls said:
The kisses shared by Crawford and Gilbert were sizzling. We all knew it and were rooting for her not only as a dramatic actress but to rival Garbo, who was ruining Gilbert's life. We thought Joan was clever enough to be discreet if Jack were led properly. He hadn't been happier in a long time. Though he and Joan couldn't get enough of each other when the camera was rolling, he didn't follow through. (CM)
Said Joan about their relationship:
Our chemistry on-screen may have been pretty hot--let's face it, as a couple we were pure sex, I think the first time that ever really came across with one of my leading men--but there was nothing face-to-face, person-to-person, when the scene was over. To be honest about it, Jack seemed too flibbertigibbety intense for my taste. I don't mean he was in any way effeminate--indeed, he was "all man." But he never stayed put, so to speak, you never felt he was giving you his entire attention. Oh, he was in love with Garbo, yes, at the time, but it was something else, too. I think it was narcissism. He seemed to be mostly in love with himself, with the effect he was producing. I used to feel sorry for him because he didn't have a mirror--a big one--handy to catch his every mood and look. I for one wanted a man who gave me his complete attention. Maybe Greta got that--I certainly didn't! (EB)
IMDb info. Golden Silents page.
---
---
---
---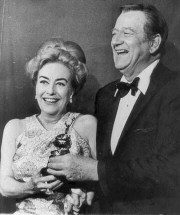 Golden Globes. Awarded by the Hollywood Foreign Press Association since 1944 for excellence in film and television, both domestic and foreign. Joan was nominated for 3 Golden Globes: In 1952 for Best Actress in Sudden Fear; and in 1954 and 1969 for the Cecil B. DeMille Award. She received the award on February 3, 1970, for the year 1969. See the Collectibles page for a close-up of the award.
---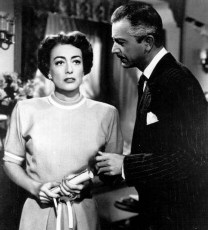 Goodbye My Fancy. Warners, 1951. Directed by Vincent Sherman, 107 minutes. Joan stars as congresswoman "Agatha Reed," who returns to her alma mater and rehashes an old college fling in the middle of some political turmoil. Also starring Robert Young, Frank Lovejoy, and Eve Arden. Says Joan in CWJC: When I first read the script I thought Warner was offering me the picture because he couldn't get either Kate Hepburn or Roz Russell for the part. I still think they could have done this sort of sophisticated political comedy better than I did. But Vince Sherman, the director, made sure I did a pretty good job. All the credit for bringing it off belongs to him.
---
Gordon, Annette. Neighbor of Joan's in New York City's Imperial House building. Gordon lived in apartment 23-G. In the early 70s, Joan wrote her the following note: Dear Mrs. Gordon. We are doing public service recordings and all we can hear is your daughter's yelling and tantrums. Is there no way you can control her? We would be so grateful if you would at least try. Why not try central park -- where she could draw a crowd?
---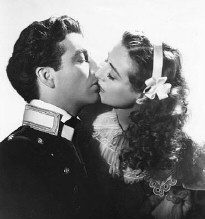 Gorgeous Hussy, The. MGM, 1936. Directed by Clarence Brown, 105 minutes. Joan stars as innkeeper's daughter "Peggy O'Neal" in this period piece about President Andrew Jackson, with an all-star cast including Robert Taylor, Lionel Barrymore, husband Franchot Tone (her 5th film with him), Melvyn Douglas, and James Stewart. Says Joan in CWJC: I wanted to do "Hussy," like a damned fool, and I did. Historical romance simply was not for me. A new actor named Robert Taylor did a fine job, Franchot Tone and Melvyn Douglas and another new actor named James Stewart were also good, but I was so totally miscast I think this is where the term "credibility gap" originated.
---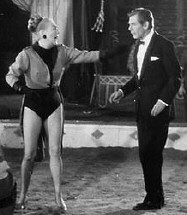 Gough, Michael (11/23/17 - ) Longtime British actor (debuting onscreen in 1947) who appeared with Joan in two films: Berserk! (1968) and Trog (1970). He said about Joan:
I was in Joan Crawford's last two pictures...made in England. She was still a star here; she commanded respect and leading roles. Miss Crawford was every inch a star, yet despite the dozens and dozens of motion pictures she'd headlined, she still retained a vulnerability [and] a desire to please...In this country, we don't have, or at least didn't used to have [in the late sixties], the tendency to make jokes of older women or relegate them to the dustbin once they pass fifty.
---
Goulding, Edmund. (3/20/1891 - 12/24/59) Decadent British actor/playwright/director who directed Joan in Sally, Irene, and Mary; Paris; and Grand Hotel. One of four directors that Joan said really helped or influenced her (the others: Clarence Brown, George Cukor, Mike Curtiz).
Said Joan in CWJC: Eddie Goulding was a mystery to me, but a pleasant one. He came on very strong sometimes, very self-effacing at other times, but he got what he wanted. Like Curtiz, much later, and Preminger, for that matter, I think he had a film running in his brain all the time he was shooting, and he wanted to duplicate that film, frame by frame, as it was shot. I always felt that he saw the completed picture before it was filmed.
Silents Are Golden info. IMDb info.
---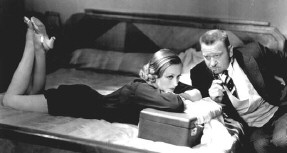 Grand Hotel. MGM, 1932. Directed by Edmund Goulding, 115 minutes. (The play Grand Hotel, based on the German novel Menschen im Hotel, premiered on Broadway on November 30, 1931, and ran for 257 performances. MGM contributed $15,000 to the show in exchange for the film rights.) Joan plays stenographer "Flaemmchen" in an all-star cast also featuring Greta Garbo, John Barrymore, Lionel Barrymore, Wallace Beery. Critical and popular consensus is that she more than held her own amid the heavyweights. If Our Dancing Daughters in '28 made her a star, this one made her a... Superstar! This film won Best Picture for 1932, Joan's only appearance in a movie that won the biggie. Says Joan in CWJC: ... my high point up 'til then. Little Joan was called upon to match Garbo, Wallace Beery, and the Barrymores and she came off smelling like a rose. I adored that film then and I do now. Goulding had a first-rate script and he made the most of every scene, and Adrian dressed both Garbo and me exquisitely without putting us out of character. God, what a picture!
---
Granlund, Nils T. A legend in New York City radio by 1924, when Joan met him backstage while she was appearing in "The Passing Show." Known as "NTG," he was considered the first DJ, the first Ed Sullivan; recordings were first broadcast on his show; and he pioneered the use of advertising to pay for air time. In addition to his talk and radio shows, he also packaged cabaret and floor shows, having 13 shows running in 1924 as well as owning some of the clubs he booked the shows into. (Barbara Stanwyck, Claire Luce, and Ruby Keeler were veterans of his shows.)
Early in 1924, Granlund and singer Harry Richman opened their speakeasy Club Richman, which became an upscale sensation. After their backstage meeting, Joan tearfully begged him for a job at the club, claiming a sick ma she had to care for; he hired her as a featured Charleston dancer for $50 a week and became her mentor-slash-sugar daddy, eventually introducing her to MGM's Marcus Loew and insisting he set up a screen test for her. When several screen tests were rejected by committee in MGM's California base, Granlund personally called Metro producer Harry Rapf and asked him to sign Joan. (JB)
---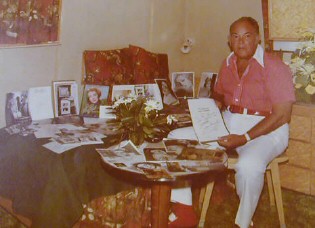 Grant, Charles. Longtime Joan fan, and friend from 1960 until her death. In the mid-1980s, he tried, unsuccessfully, to publish his autobiography about his friendship with Joan: Unzip Me, Mr. Grant. He died in the late '80s.
---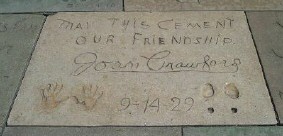 Grauman's Chinese Theater. Joan placed her hand- and footprints on the sidewalk outside this Hollywood theater (located at 6925 Hollywood Blvd.) on September 14, 1929. This was also where the Oscar ceremonies were held in 1946, the year she won the 1945 award for Best Actress. (Joan didn't attend, pleading illness.) More Grauman's info.
---

Gray, Gary. (12/18/36 - ) Appeared with Joan in A Woman's Face (1941) as "Sailor-Suited Boy in Park." In August 2001, Gray gave an interview where he had this to say about Joan:
On one of my first movies I was a kid playing hopscotch in the park. I fell down and cut my knee. Before my own mother could get to me, Miss Crawford ran, picked me up, took me into her trailer, cleaned my cut and gave me some chocolate. She did all this without publicizing it or telling anyone. I don't care what anyone says, she had to have had a decent side to her to do what she did for me for no reason other than to help a child who was hurt. Besides, she was dead when that book was written. She wasn't around to defend herself.
---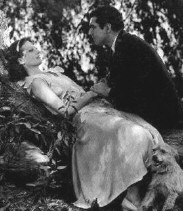 Great Day! A Harry Beaumont-directed MGM musical starring Joan initially set for release in 1931; production started in the fall of 1930, but after around 8 weeks of shooting, the film was scrapped at considerable cost to the studio ($280,000 according to Joan and US), largely due to Joan's extreme unhappiness with her southern belle performance ("I just can't talk baby talk," Joan told LB Mayer after viewing the rushes, which she thought were "God-awful.") Another effort was made to make the film in 1934, this time starring Jeanette MacDonald, but this also fell through.
Great Day page (includes 2002 essay by Sandy McLendon on why the film not released)
---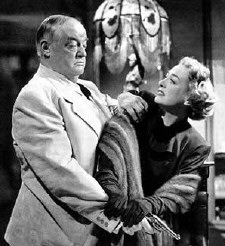 Greenstreet, Sydney.
---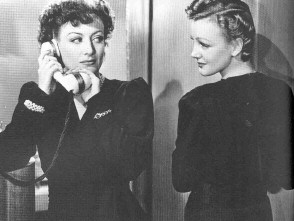 Grey, Virginia. (3/22/1917 - 7/31/2004) Grey appeared with Joan as Crystal Allen's charmingly catty co-worker in 1939's The Women. (She also spoke about Joan in the 2002 TCM Joan doc "The Ultimate Star"; the two had remained friends over the decades, corresponding fairly regularly until Joan's 1977 death.) Born to a show-biz family, Grey debuted as a child star in 1927's Uncle Tom's Cabin and went on to appear, mainly in supporting roles, in over 100 films as well as more than 40 TV shows, before retiring in the early 1970s. Her biggest year was probably 1939: aside from The Women, she also appeared that year in Idiot's Delight and Another Thin Man. IMDb info.
---
Griffin, Merv. Joan appeared on the U.S. program The Merv Griffin Show at least 16 times, according to the IMDb: 3/7/63, 7/19/65, 11/10/65, 11/16/65, 3/9/66, 4/5/66, 4/26/66, 6/28/67, 9/11/67, 2/27/68, 5/6/68, 11/4/69, 1/16/70, 3/21/70, 10/28/71, and 9/26/72.
---